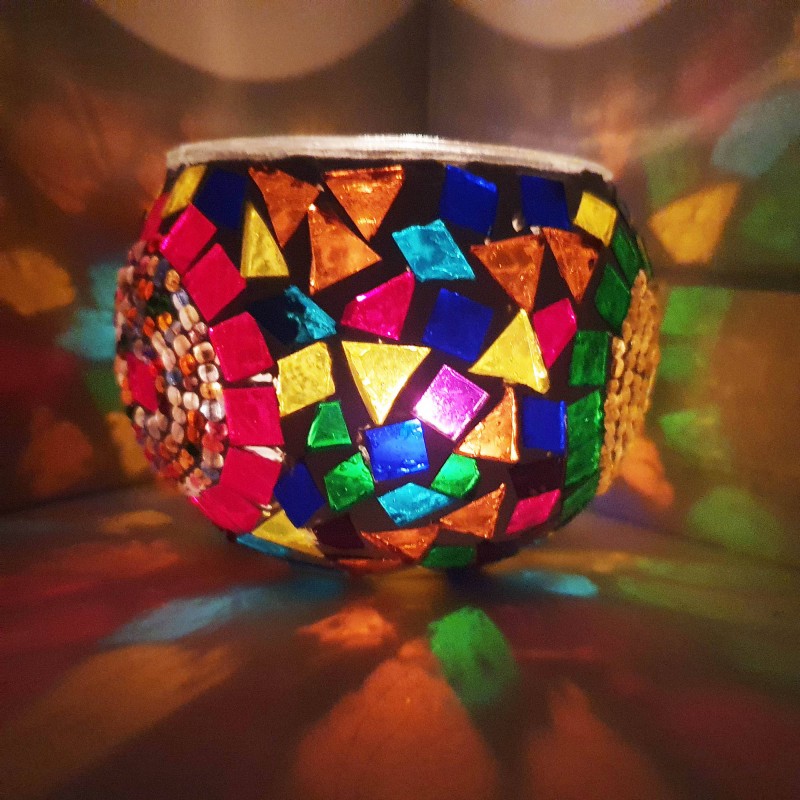  
Coloured Glass Candle Holder - Hand-Crafted in Turkey
Reference: MOS-CAN-6
This candle holder has a hand-crafted pattern made up of stained glass tiles and beads.
As the light shines through the coloured stained glass tiles and beads, it activates the higher vibrational energy brought through the colours.
The colour energies of this candle burner work together to help someone who feels lost on their path and cant see what direction to go in. The colour vibrations work together to help you to do deep within your soul being and connect with your higher Divine purpose then bring the understanding of your purpose in the world up through your heart where you can see the bigger picture of who you are and what direction you need to go in. The red in this candle burner then brings up the power and passion to get going and start walking that direction and manifest it into your life. This is a great burner to use to show each step you need to take. When you  understand your direction but don't know where to start, light the burner and when calm send out in your mind asking for the next step to show itself. Then trust that either an idea or message will come in that moment or the next step will show itself in the coming days or weeks. The colour vibrations of this burner bring guidance and signs of where to go and what to do. It is what you use when you have a question you would like the Universe to help you answer. The colour qualities of this burner also bring the energies which help you to trust in the Divine and trust in your own feelings and inner wisdom and guidance. 
This candle holder burner comes with a tea light candle.
Data sheet
Dimensions (approx.):

Heigth: 75 mm

Diameter (approx.):

110 mm

Comes with:

- Small candle.

Photo's are of:

Actual item.

Country of origin:

Turkey

Material:

Stained Glass Mosaic, Hand-Crafted