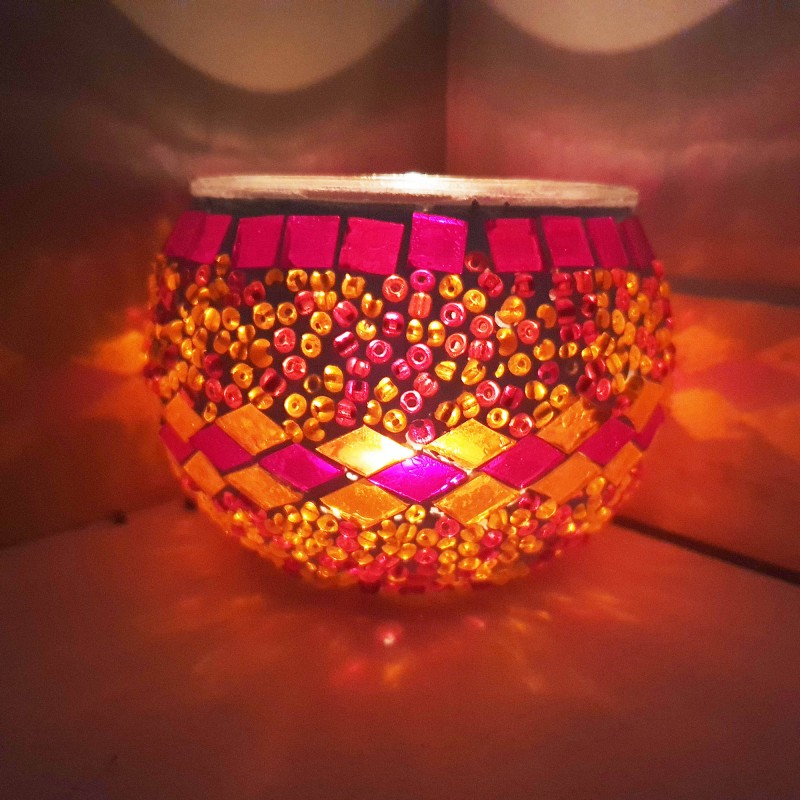  
Coloured Glass Candle Holder - Hand-Crafted in Turkey
Reference: MOS-CAN-5
This candle holder has a hand-crafted pattern made up of stained glass tiles and beads.
As the light shines through the coloured stained glass tiles and beads, it activates the higher vibrational energy brought through the colours.
The colour energies of this candle burner are very powerful. They bring excitement, passion and power to new beginnings in life. They get things moving very fast and push changes through in a very high positive way. This is a very powerful colour combination for fertility, pregnancy and birth whether it is literally as in conceiving and birthing a baby or conceiving and birthing a new business or life situation. The energies from this candle burner are always highly positive so would be excellent to use to uplift your mood or help with severe depression. (Note: This colour pattern is not recommended for anxiety. See oil burners MOS-OIL-4 and MOS-OIL-5 to help with this condition).
The colours of this candle burner come together in celebration of life so can also heighten the ambient mood for special occasions of celebration and for family get togethers. 
This candle holder burner comes with a tea light candle.
Data sheet
Dimensions (approx.):

Heigth: 75 mm

Diameter (approx.):

110 mm

Comes with:

- Small candle.

Photo's are of:

Actual item.

Country of origin:

Turkey

Material:

Stained Glass Mosaic, Hand-Crafted