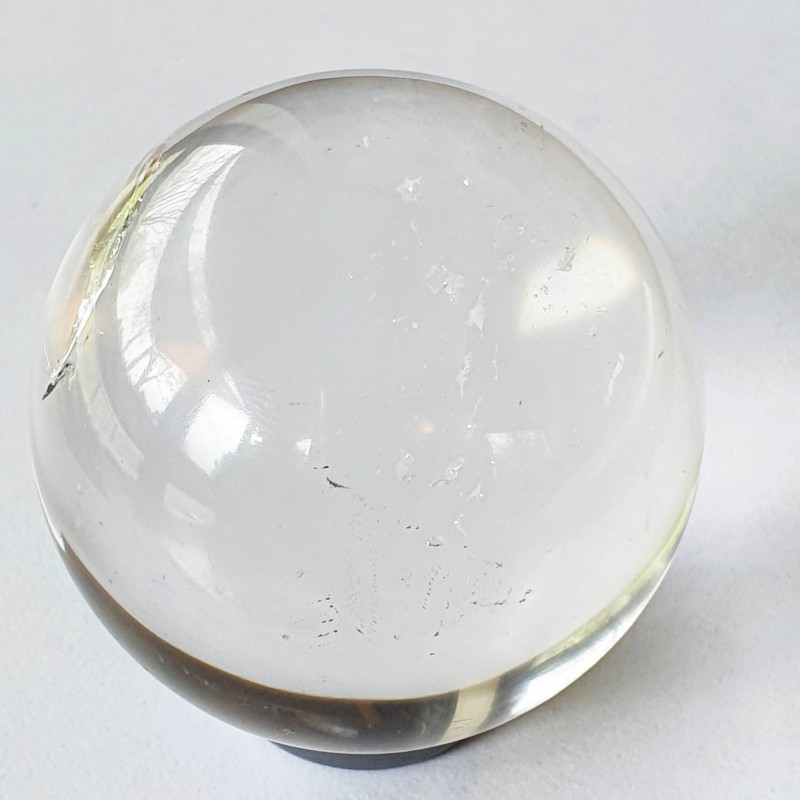  
Clear Quartz Sphere - 46mm
Reference: CQ-SPH-2
This clear quartz sphere is extremely unique as if you gaze into the sphere at certain angles you can see a very faint display which resembles the moment of creation or as some people call it the Big Bang. This marking in the sphere holds the strongest energy of creation and the beginning of time. This was a time when everything and anything was possible. It was a time of high optimism and strong manifestation. This particular crystal brings all the powers and qualities of that moment of creation into your life. It gives you a fresh start in life where any dreams or goals are fully achievable and where a vision created can turn into a vision manifested. 
This is a high quality Clear Quartz sphere. It brings an exceptionally high energy of Source and creation around you. The high vibration of this sphere brings pure Source energy in giving you the strongest protection from the angelic realms possible, and opening you up completely to the high spiritual being that you are. It brings such a strong Source energy through that it enables you to stand in your power and shine your full spiritual being into the world.
This is an extremely powerful crystal to help with manifestation of your Divine path on earth. If you look at the fragmented part of this sphere in the right light you can see the rainbow of all the colours which come together to form the white light clear crystal. This fragmentation part of the sphere channels all the qualities of each colour vibration through the clear quartz into the space where you have placed it so all those qualities can work to support you on the higher energetic level. 
Spheres bring a more nurturing form of healing energy from Source. Instead of directing energy through a point, like the obelisk does, the energy collects within the sphere, activating the qualities of that particular crystal and then gently permeates the surrounding space with those qualities. These crystals are very effective within a room to create and hold the healing space over long periods of time. Therefore the healing energy continuously flows through the room in a gentle way without being too strong or overwhelming. Spheres make a nice decorative space and therefore can be placed anywhere in the house and everyone in that space can receive the beneficial qualities of the crystal, provided their free will accepts it. Generally spheres are more expensive because they are cut from a much larger crystal to create the perfect sphere.
Extremely clear, clear quartz sphere.
Data sheet
Weight:

154 grams

Diameter (approx.):

46 mm

Comes with:

- Hematite Ring (Stand).

Photo's are of:

Actual item.