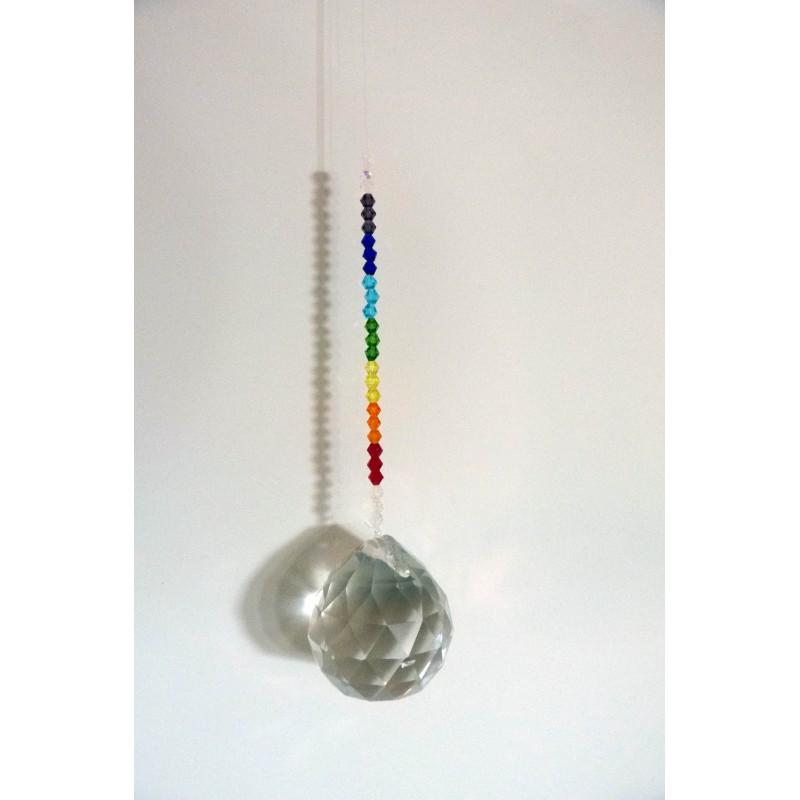  
Sun Catcher with Swarovski Chakra beads
Reference: SUNCATCH-01
Sun catchers are made of a clear high energy crystal glass, which is faceted in a high quality way to capture every colour vibration from sunlight and refract it through the crystal into the surrounding space, creating an amazing colourful rainbow effect. The light energy created from the Sun is the earth's equivalent to the purest form of Source energy. Therefore it energises, vitalises and fills the space with positive vibration. Our particular sun catchers also have high quality Swarovski crystal beads, which reflect the energies of the Chakra system and have been tuned in to the crystal to enable the high energy, which comes through the crystal, to help clear, cleanse and maintain the Chakra system of anyone within that space.
This Sun Catcher has an excellent size and quality to create and bring beautiful rainbow colours into your home.
The 40 mm crystal glass is of high quality, which is also used in high end chandeliers.
Sun Catcher with 40 mm high quality glass crystal, approximately 45 cm strong nylon wire and 27 Swarovski Chakra 4 mm coloured beads , and 10 mm mounting ring. 
Data sheet
Diameter (approx.):

40 mm crystal glass

Photo's are of:

Similar item.
Customers who bought this product also bought: