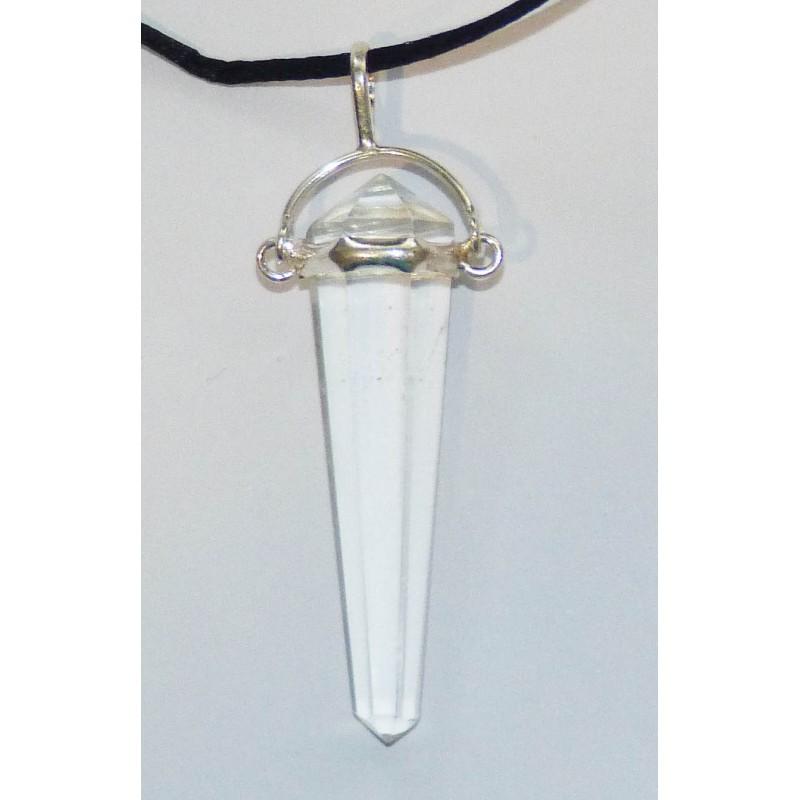  
Clear Quartz Double Terminated Silver Metal Pendant
Reference: CQ-PE-1
Clear Quartz opens a direct connection to Divine Source, allowing pure source energy to flow through you, filling your physical body with Love, Light and Protection. As this energy flows through you, it helps to flush out of the body, any energetic attachments, entities or pockets of negative energy build up. It clears and cleanses every part of the human body, then expands outwards through the aura forming a bubble of protection around you to help minimise the chances of further build up of energy or attachments from forming. Clear Quartz helps to clear the Chakras and the Auric field and brings energy to the physical body to help maintain its Life Force and over all health. Because of the direct connection to Source, wearing clear quartz helps to hold you in a protective clear space to support you in receiving messages and guidance from source. It also maintains an open space within and around you to help you to access your own personal spiritual gifts and to support you in high level spiritual growth. People who are drawn to wear clear quartz are often ready to open up to a higher level of new soul growth and to learn to use their spiritual gifts and qualities to bring themselves into full alignment with their Divine path and their true life purpose. Wearing clear quartz provides and open channel to Source which helps to support your development with this.
Jewellery is an effective way to be able to fully receive the beneficial healing qualities of the crystals through wearing them in a fashionable way. Wearing the crystals continuously enables you to form a deeper connection with your crystal, allowing it to adapt its qualities to work with you on a more personal level. As you develop your relationship with your crystal over time, it will learn to adjust the qualities you receive from it, to bring you the greatest support possible with healing processes and in your spiritual growth and development. People who wear their crystals and build this relationship with them, often feel a loving, nurturing and supporting vibration from the crystal, helping them to cope with challenging situations.
The shape of the pendants create different energies depending on what shape they are. The qualities and gifts the crystals bring are similar but the shape helps to determine the strength of the energy from the crystal and also how the gifts and qualities are taken into your body energetically. 
Terminated pendants: Bring the qualities and gifts of the crystal out in a more powerful, direct way and have a much stronger effect. These are recommended for people who need stronger support and who wish to work on a deeper, more closer level through issues, challenges, self-healing and soul growth.
The double terminated pendant creates an energetic link and flow from Source through the physical body and grounding within the Earth. It also creates the flow from within the Earth up to Source and it is from within this flow that healing on all levels can be received. The healing from this type of pendant is more effective and stronger than any other type, because it works with energies from Source and also from within the Earth.
Add a 925 Sterling Silver 2 mm Chain Necklace to your order for only $10 ($7.50 off).
Data sheet
Dimensions (approx.):

40 mm x 10 mm (crystal only)

Comes with:

- Adjustable 80 cm nylon black necklace string.
- Luxury blue velvet gift bag.

Photo's are of:

Actual item.

Combo Discount:

Add a 925 Sterling Silver Necklace for NZD 10,- ($7.50 off)