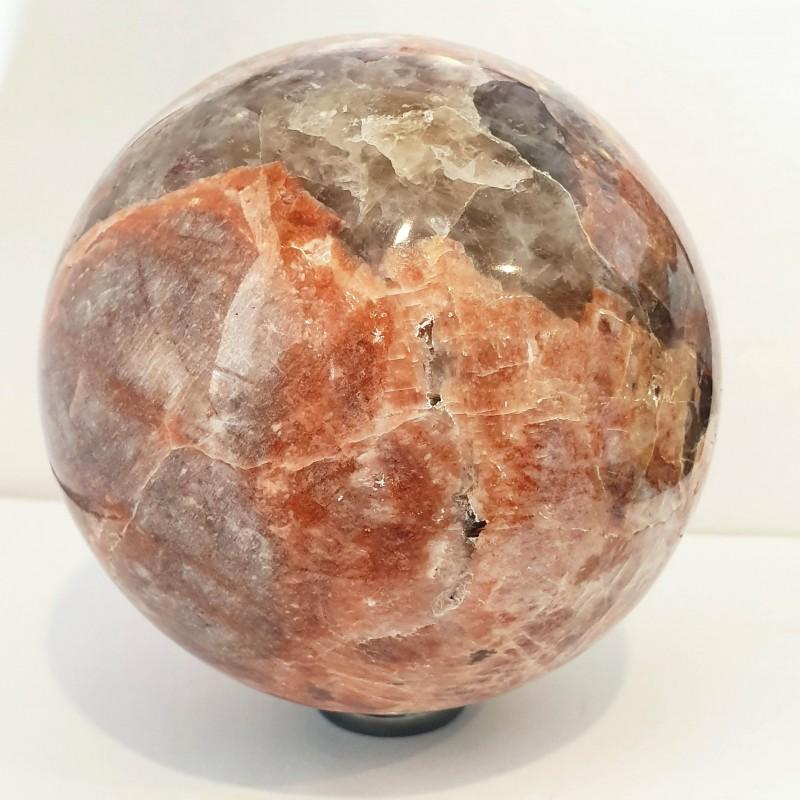  
Large Peach Moonstone Sphere - 86mm
Reference: PMS-SPH-1
Large Peach Moonstone with Tourmaline sphere.
This Large Peach Moonstone sphere has the purpose to help bring everything into alignment and help re-align you with your divine path.
This sphere brings high Source energy to support those who feel they are completely lost in life, have lost their way, and can't see forward to see or feel what their next step should be.
This sphere brings your soul purpose, your life purpose and your physical being back into harmony with Source and the Divine, and helps to bring you back on track on your life path. This Peach Moonstone sphere helps to calm your nervous system and brings it back into harmony. It harmonises your organ system and calms the physical body, restoring the body's natural rhythm and re-centring the Soul Being within the body and aligning it with the Earth and the Divine.
This Peach Moonstone helps to restore the function of all organs within the body and will help to support people with organ failure and/or heart conditions. It brings restoration and strength throughout the system.   
The black paint-like marks in the crystal have a specific purpose of bringing inner awareness to the depth of who you are as a human being. 
This crystal basically picks you up and puts you back onto your path.
Spheres bring a more nurturing form of healing energy from Source. Instead of directing energy through a point, like the obelisk does, the energy collects within the sphere, activating the qualities of that particular crystal and then gently permeates the surrounding space with those qualities. These crystals are very effective within a room to create and hold the healing space over long periods of time. Therefore the healing energy continuously flows through the room in a gentle way without being too strong or overwhelming. Spheres make a nice decorative space and therefore can be placed anywhere in the house and everyone in that space can receive the beneficial qualities of the crystal, provided their free will accepts it. Generally spheres are more expensive because they are cut from a much larger crystal to create the perfect sphere.
Data sheet
Weight:

1.115 kg

Diameter (approx.):

86 mm

Comes with:

- Hematite Ring (Stand).

Photo's are of:

Actual item.