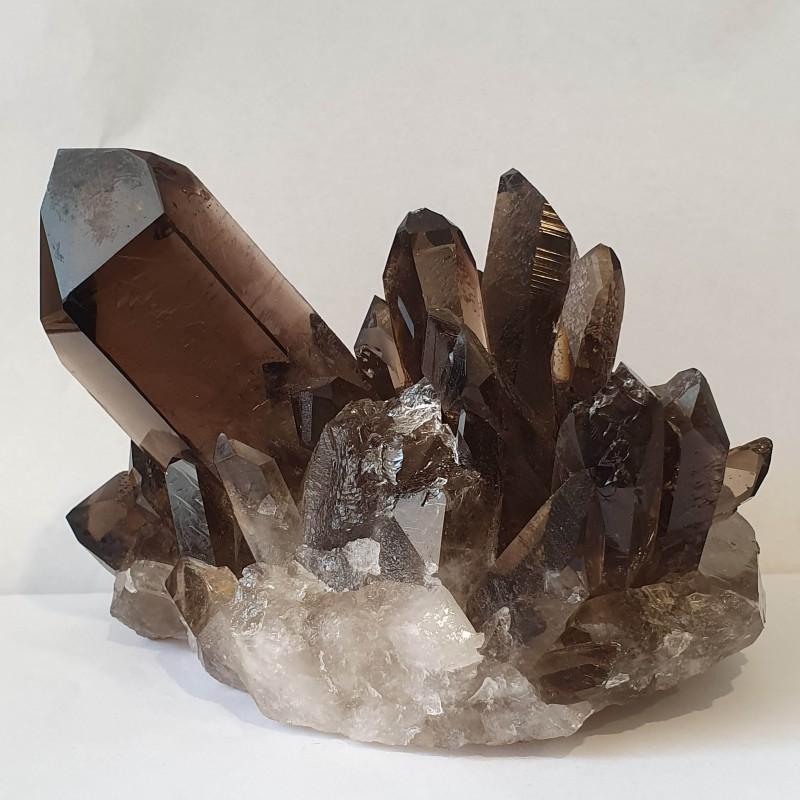  
Smoky Quartz Cluster
Reference: SMQ-CLU-1
As the vibration of the Earth rises, it will become increasingly harder to manifest in the physical, till we all adjust to this higher vibration. This particular crystal helps to strengthen the ability to keep manifesting in the physical as the vibration of the Earth rises.
The Smokey Quartz crystal is a manifestation stone.
This Smokey Quartz cluster has very powerful points which help to take manifestation and clarity to a deeper level. When messages, information and guidance are received from Source, they need to be integrated with the Earth energy for them to be able to be used in a functional way in daily life on Earth.
This crystal helps with the transition of Source energy into fully functional effective Earth energy and brings Source and Earth together to be able to operate as one, which supports the manifestation from the spiritual realm into the physical realm.
This crystal also helps people who get carried away with thought processes, unrealistic expectations and dreams and helps to centre those to help make them realistic and achievable within the Earth realm.
This crystal helps to manifest the visions of the Universe into the reality of the Earth. It is the anchor of all manifestation.
The strong points of this particular crystal cluster amplify the power of manifestation energies that are coming through and will help pull manifestation through from Source throughout the rising vibration of the new Earth. It keeps everything grounded to help with manifestation.
Clusters of crystals help you to not only receive the qualities of the crystal itself but also helps you to more strongly ground it either in your body or in whatever space the crystal is placed in. This form of crystal is very helpful when you need to calm a space down or bring creativity through a space such as an office or meeting room. The qualities of whatever crystals are used in the cluster are the qualities which will permeate the space the crystal is placed in.
Data sheet
Weight:

0.821 kg

Dimensions (approx.):

Base: 120 mm x 95 mm, Heigth: 90 mm.

Photo's are of:

Actual item.