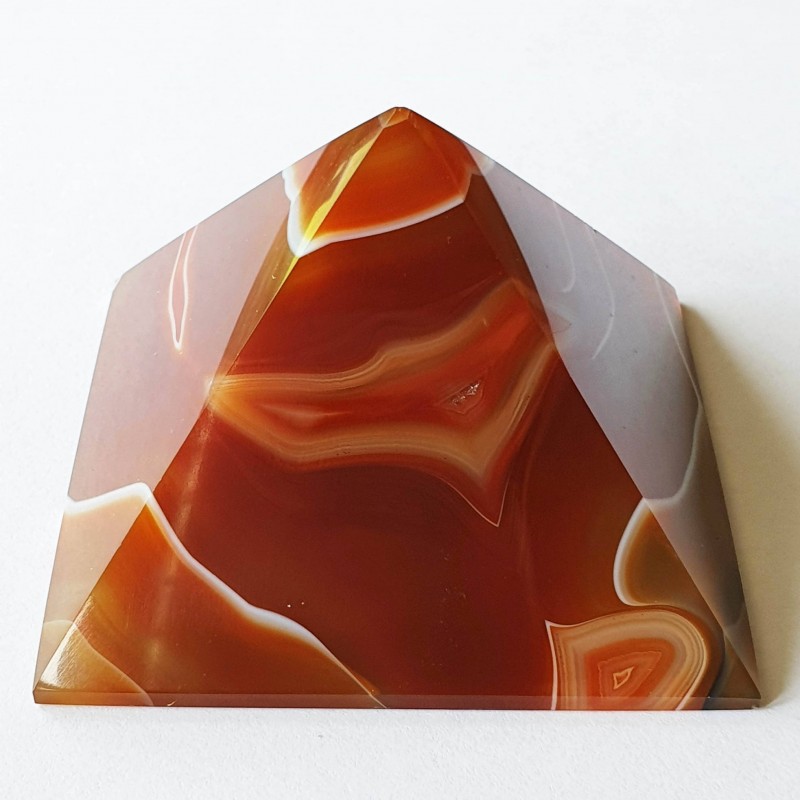  
Carnelian Pyramid
Reference: CAR-PYR-1
Carnelian helps to connect to the deeper energetic levels within you to help bring warmth, hope and light in a grounding way through your physical body. This is a very beautiful crystal to use long-term to ground new beginnings as they open, making them more effective in supporting and enhancing your life path. The energies of this crystal provide a deeper form of guidance, which helps you to stay in tune and alignment with your true path.

his particular carnelian pyramid has an especially strong energy and is very firmly rooted in the Earth and with the higher realms of source. This is a pyramid for someone who has a very determined idea of a strong purpose within them which is pulling on them in a very bold direction. This person will have a very large project ahead of them which needs a huge amount of energy to manifest and get off the ground. The energy of this pyramid will catapult the project into life and bring strong powerful and positive energies of manifestation through to support the opening of the project. This carnelian crystal will also support someone in the higher business world and will support the getting off the ground and the flourishing success of the business. A great crystal for on the desk of a high business manager. 
The pyramid shape grounds any project firmly on the earth creating a solid energetic foundation for the project to manifest through. The manifestation energy from within the Earth pushes the project or business up through the pyramid and into the world while at the same time the tip of the pyramid reaches up to source and brings through universal support for the business or project in harmony with the Higher Divine Plan.
Data sheet
Dimensions (approx.):

Base: 61 mm x 61 mm, Height: 40 mm

Photo's are of:

Actual item.