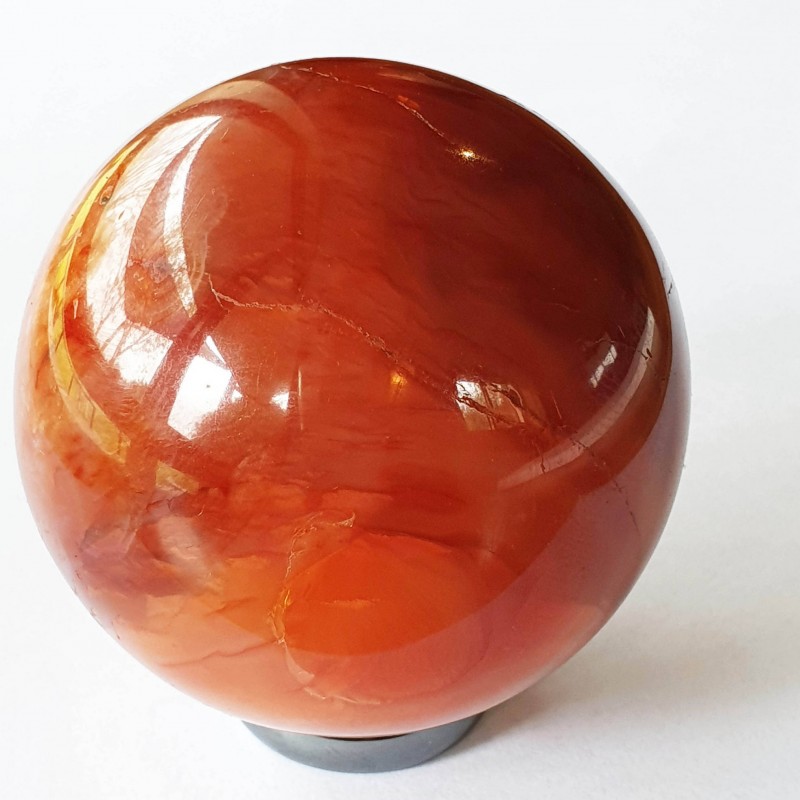  
Carnelian Sphere - 56mm
Reference: CAR-SPH-1
This carnelian sphere helps to open and deepen new opportunities and new situations in your life. The energies from source help to align your path with the  Higher Divine Plan and open opportunities which are in harmony with the Divine plan and your Divine purpose on Earth. The energies from this crystal help you to see what is positive in life and lights up your path ahead to keep you moving in a positive direction. This particular Carnelian sphere roots you deeply in your inner being and supports you to express your true being into the world. The carnelian also helps to energise and clear any build up of negative energy or negative thought patterns which do not serve your higher good. It maintains healthy flow in your life and keeps your physical body functioning on a healthy and energised level. 
Spheres bring a more nurturing form of healing energy from Source. Instead of directing energy through a point, like the obelisk does, the energy collects within the sphere, activating the qualities of that particular crystal and then gently permeates the surrounding space with those qualities. These crystals are very effective within a room to create and hold the healing space over long periods of time. Therefore the healing energy continuously flows through the room in a gentle way without being too strong or overwhelming. Spheres make a nice decorative space and therefore can be placed anywhere in the house and everyone in that space can receive the beneficial qualities of the crystal, provided their free will accepts it. Generally spheres are more expensive because they are cut from a much larger crystal to create the perfect sphere.
Data sheet
Weight:

192 grams

Diameter (approx.):

56 mm

Comes with:

- Hematite Ring (Stand).

Photo's are of:

Actual item.