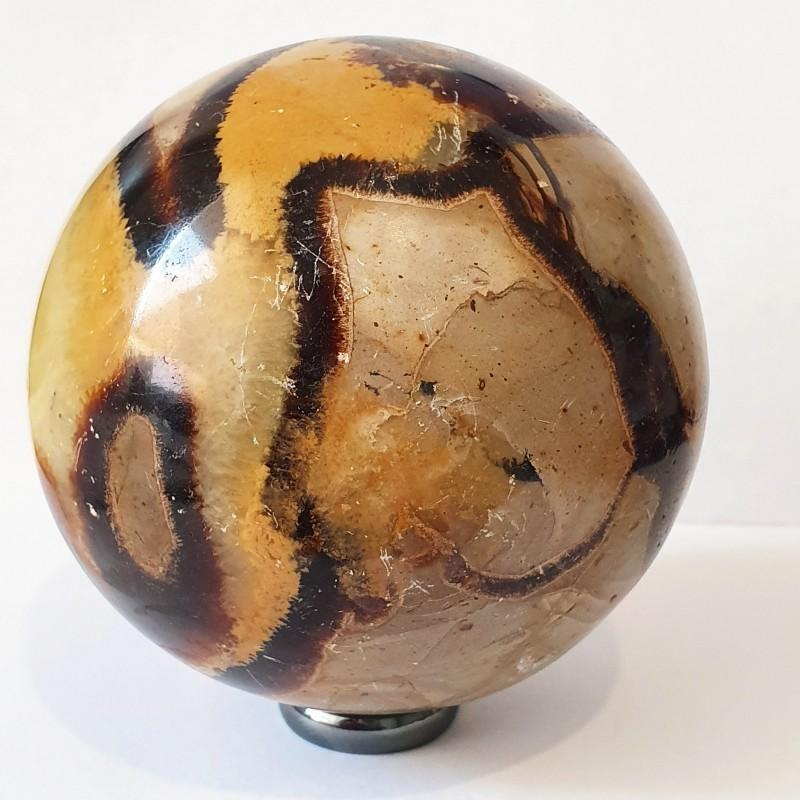  
Septerian Sphere - 76mm
Reference: SEP-SPH-3
Each Septerian sphere, works to bring the qualities needed to open new beginnings and ground them on Earth, which on a whole is the energy behind manifestation. 
If you find that in life, new opportunities keep presenting themselves but then fall away and don't manifest, then this larger sphere will be more effective than the smaller Septerian spheres. Because of the energy and depth of the energy of the larger size, it has a greater ability to pull the new beginnings through into manifestation on Earth.
The Septerian Sphere brings strong energies of fertility and will help support the ability for the conception of new life. 
Because the vibrational energy of this sphere is very grounding and strong within itself, it also has great potential to help hold a pregnancy through its term, especially in cases where frequent miscarriages have been experienced.
On another level, this sphere has beautiful energies of opening new beginnings, and can help to bring direction for people who's current path has completely dissolved, helping to place them on a new positive path with wonderful new opportunities.
For those who need the purpose for grounding and anchoring on earth, for example grounding a pregnancy or bringing strength to new beginnings, you would be best to choose the Septerian spheres with more brown and greys in it.
For those who's purpose is to open new beginnings, you would be best to choose the sphere with the brightest and most amount of yellow through it.
It is important that you choose the Septerian sphere which you are most drawn to, not because of shape or colour. The crystal draws its owner to it for that person's particular purpose.
Spheres bring a more nurturing form of healing energy from Source. Instead of directing energy through a point, like the obelisk does, the energy collects within the sphere, activating the qualities of that particular crystal and then gently permeates the surrounding space with those qualities. These crystals are very effective within a room to create and hold the healing space over long periods of time. Therefore the healing energy continuously flows through the room in a gentle way without being too strong or overwhelming. Spheres make a nice decorative space and therefore can be placed anywhere in the house and everyone in that space can receive the beneficial qualities of the crystal, provided their free will accepts it. Generally spheres are more expensive because they are cut from a much larger crystal to create the perfect sphere.
Data sheet
Weight:

752 grams

Diameter (approx.):

76 mm

Comes with:

- Hematite Ring (Stand).

Photo's are of:

Actual item.