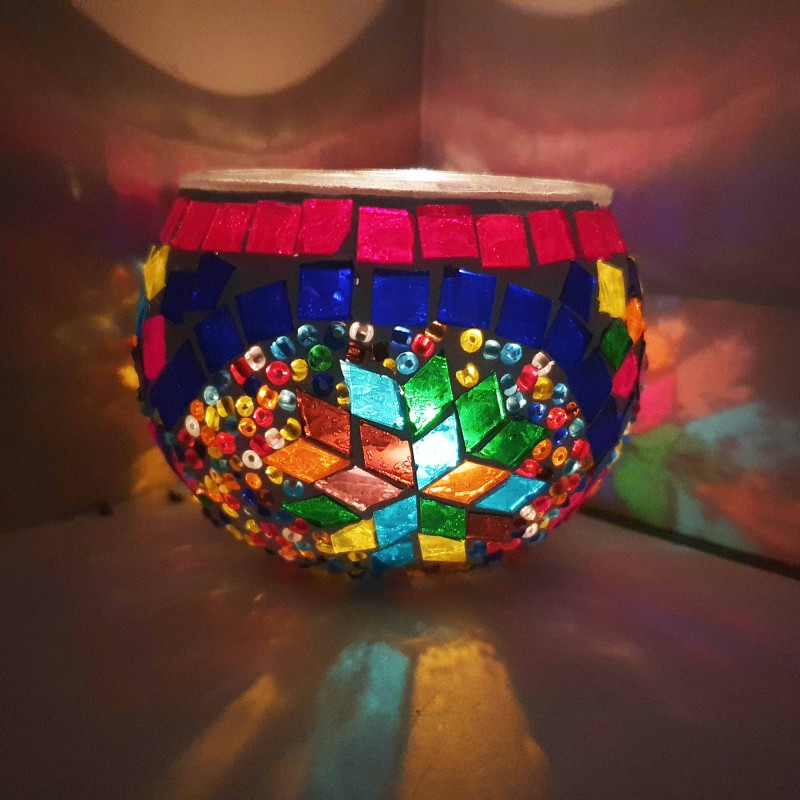  
Coloured Glass Candle Holder - Hand-Crafted in Turkey
Reference: MOS-CAN-4
This candle holder has a hand-crafted pattern made up of stained glass tiles and beads.
As the light shines through the coloured stained glass tiles and beads, it activates the higher vibrational energy brought through the colours.
This candle burner brings the energies of deep passion into the room. It is lovely for romantic situations or for tuning into your vision and goals in life.
The colour energies are very grounding in the physical so would be helpful to bring you into your true feeling world or for when you are manifesting new beginnings in your life. The colour qualities which come through this oil burner can help bring positive changes which are needed for you to be able to move forward on your Divine Path. It also helps you to see and feel what direction you need to go in next to fulfil your soul learning or Divine purpose. This is the energy of physical action. It gets things moving in a flowing nurturing way for everyone. This is a lovely candle burner to use on a dinner table for a dinner party as it keeps things calm and deepens the level of conversation where everyone feels listened to and their opinions valued. It brings the vibration of a fun time for all. 
This candle holder burner comes with a tea light candle.
Data sheet
Dimensions (approx.):

Heigth: 75 mm

Diameter (approx.):

110 mm

Comes with:

- Small candle.

Photo's are of:

Actual item.

Country of origin:

Turkey

Material:

Stained Glass Mosaic, Hand-Crafted