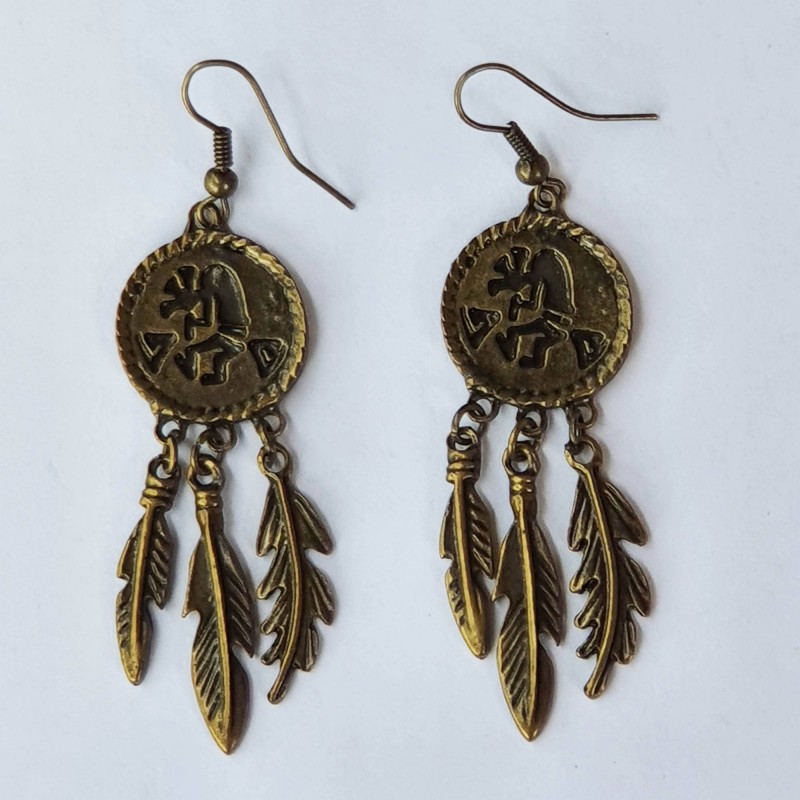  
Dream Catcher Earrings - Brass Coloured
Reference: EAR- SHA-MX
These brass coloured earrings have the symbol of the Native American Indian Shaman on the circular piece and this is adorned with the traditional 3 feathers of Trust, Honour and Strength. The energies of these earrings help you to stand strong in your own Truth and Trust in the Divine Plan. They help you to find the strength to follow your life path and the Shaman symbol brings deep healing, guidance and support from Source to help you on your jouney in life. The earrings also symbolise Hope and Freedom and will help you energetically to navigate your life path towards a life of joy, happiness and freedom as filling your Higher Divien and soul purpose along the way. These earrings also bring strong protection around you to keep you safe in the physical world and to power through or keep away any threats, negative energies or lllness. The energy from these earrings show you have courage and honour and that you will stand your ground with confidence if needed but will always look for the path of peace to follow to bring harmony in and around you. 
NOTE: These earrings are brass coloured metal. They are not real brass.  There fore we cannot guarantee that they will not change colour with ongoing contact with different skin types. The power of the energetic qualities of these earrings does not lessen with them being brass coloured metal. They will still work with you as strongly and as powerfully as they would if they were brass.  
Wearing jewellery with Spiritual power symbols helps you to be able to connect with the deep positive energetic qualities of the meaning behind the symbol and bring through strong energies of healing protection and guidance to support you in daily life and on your path. Wearing the symbol of great honour and Trust opens you up to stand in your own honour and trust in who you are as a deep Spiritual being and in life and open a higher Divien Path around and before you. 
Any form of energetic support from the Divine such as positive Spiritual symbols, power animals and crystals is always highly recommended to be worn as it allows you to form and develop a deeper connection with their energetic flow and the support they can bring for you. The more deeply connected you are with the support from Source the more strongly and powerfully it can help you and work with you. 
Data sheet
Dimensions (approx.):

Top Of Dream Catcher to Bottom of Longest feather: 5cm, Width: 1.7cm

Comes with:

- Luxury blue velvet gift bag.

Photo's are of:

Similar item.

Country of origin:

Turkey
Product customization
Don't forget to save your customization to be able to add to cart