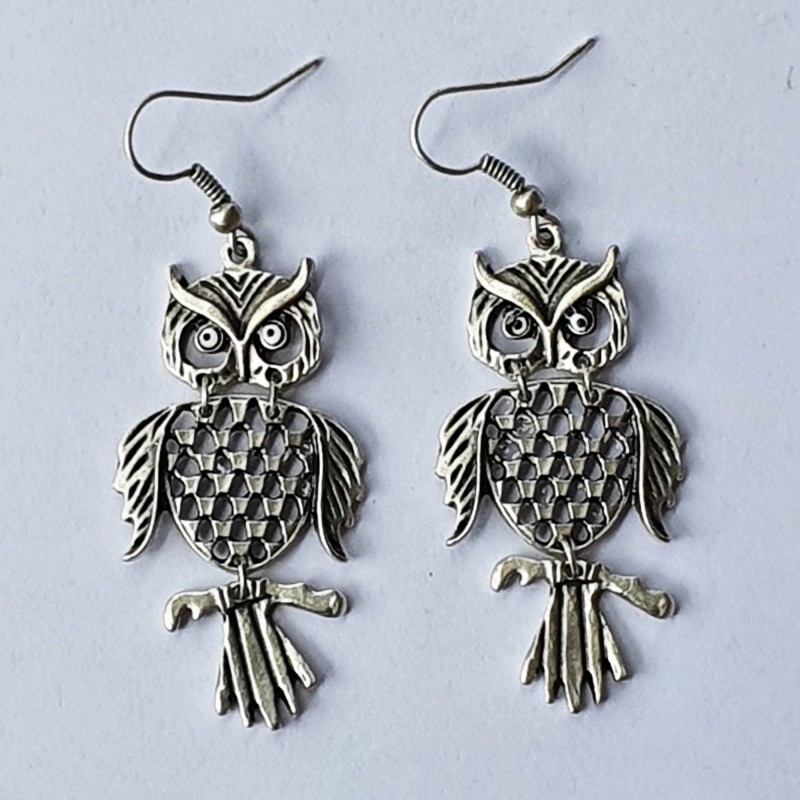  
Owl Earrings - Medium
Reference: EAR- OWL-MX
The energy of owl helps to deepen your connection with nature, which in turn opens a link to the higher energies of Source. Through the power animal of the owl and the open connection with Source, true messages, guidance and energetic support can be received. The owl helps you to stay grounded on Earth and in your body and helps to keep you calm in busy, hectic or overwhelming situations. Owl stands guard and brings protection around you. Owl quietly watches over you holding and protecting your space and keeping out lower energy vibrations. Owl helps to tone down confrontational energy and helps to maintain a calm peaceful environment. The owl watches and observes and helps you to see the truth and reality of a situation without emotional judgement. It is through the inner wisdom of owl that you are able to then make informed positive choices and decisions with your life. 
NOTE: These earrings are silver metal. They are not real silver. There fore we cannot guarantee that they will not change colour with ongoing contact with different skin types. The power of the energetic qualities of these earrings does not lessen with them being silver metal. They will still work with you as strongly and as powerfully as they would if they were silver. 
Wearing jewellery with power animal symbols helps you to be able to connect with the deep positive energetic qualities of the animal and bring through strong energies of healing protection and guidance to support you in daily life and on your path. Wearing the power animal allows the energies of that animal to work continuously with you everywhere you go so the healing support or guidance the animal brings is always available to you. 
Any form of energetic support from the Divine such as power animals and crystals is always highly recommended to be worn as it allows you to form and develop a deeper connection with their energetic flow and the support they can bring for you. The more deeply connected you are with the support from Source the more strongly and powerfully it can help you and work with you. 
Data sheet
Dimensions (approx.):

Owl head to tail 4.1cm Width 2.0

Comes with:

- Luxury blue velvet gift bag.

Photo's are of:

Similar item.

Country of origin:

Turkey
Product customization
Don't forget to save your customization to be able to add to cart