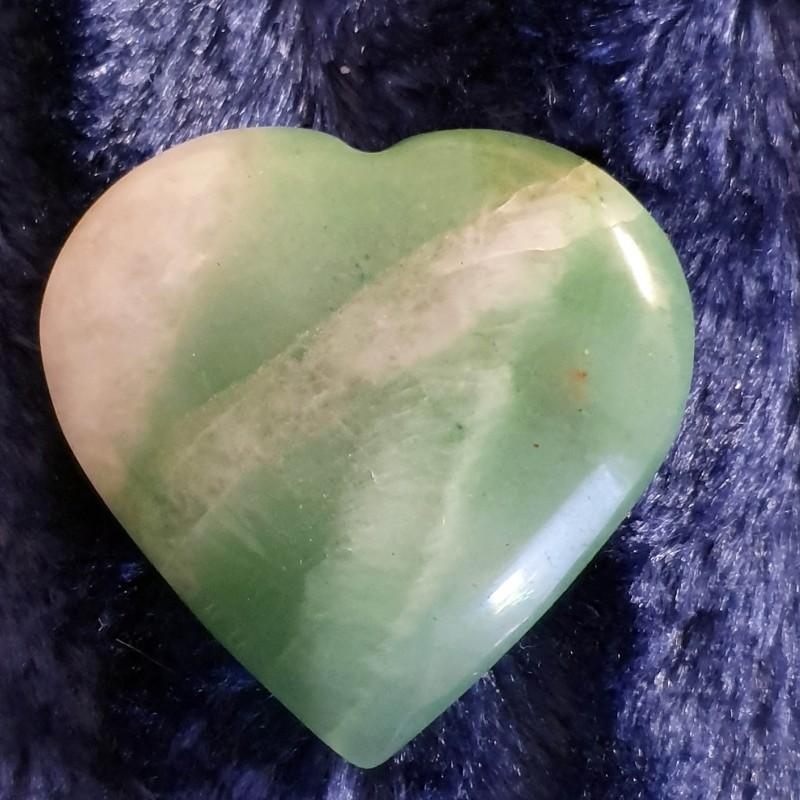  
Aventurine Heart
Reference: AV-HRT-3
The Aventurine heart with clear quartz through it has a beautiful soft energy which allows the qualities of the crystal to work in a gentle, subtle manner.
This Aventurine crystal helps you to drop down from the mind into the heart, and holds you in the space of the heart, where your physical body can feel calm and relaxed. This helps to let go of tension and to relax into a state of inner presence where the body can rest and heal.
This particular crystal may help people who are suffering from heart conditions, nervous tension and nervous system disorders. It has the potential to help to bring calming energy to mind related conditions, such as anxiety and the early symptoms of depression.
The white clear quartz within this crystal represents the crystal's connection with the purest Source energy, which is a special quality within this crystal, as it is through this higher Source energy that deep healing can be received.
The heart shape of the crystal helps your energy to drop down from the mind into the heart and open up into a state of presence. From this space inner wisdom, unconditional love, self-love and forgiveness can be accessed and brought out into the world to support your path and the path of those around you.
Because the heart shape helps to open you fully to your inner being, the qualities of the particular heart-shape crystal you have chosen, can be fully integrated through the physical and spiritual bodies, deepening and enhancing the effects of the healing qualities they bring.
Data sheet
Dimensions (approx.):

68 mm x 68 mm x 18 mm

Comes with:

- Luxury blue velvet gift bag.

Photo's are of:

Actual item.