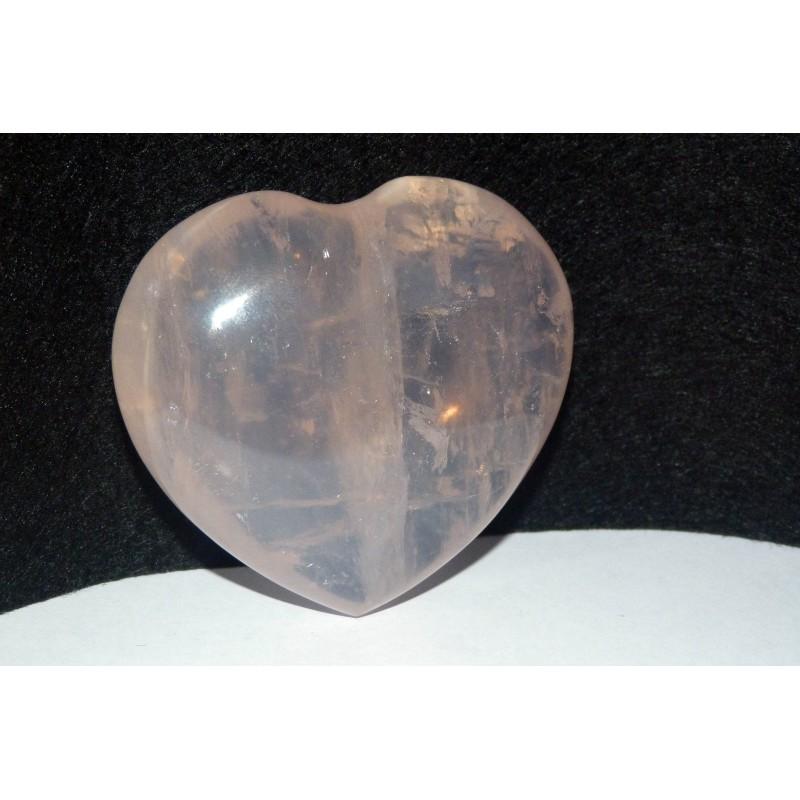  
Rose Quartz Heart
Reference: RQ-HRT-L1
This Clear Rose Quartz Heart shaped crystal helps to open you up fully to the high energies of Divine Love and to feel loved and supported by the Universe. Its qualities flow through you, helping you to see the beauty around you and to recognise all the positive little coincidences in life as being the Universe supporting you on your path.
All the markings within this crystal show all the pieces coming together behind the scenes, ready to manifest onto your path as positive happy opportunities and guidance to support you on your path.

People who are drawn to this particular crystal are being called upon to open their heart and trust the Divine, knowing that positive happy outcomes are coming their way.
This crystal has come to you to work with you and help open your path and bring those positive outcomes through for you. 
The heart shape of crystals helps your energy to drop down from the mind into the heart and open up into a state of presence. From this space inner wisdom, unconditional love, self-love and forgiveness can be accessed and brought out into the world to support your path and the path of those around you. Because the heart shape helps to open you fully to your inner being, the qualities of the particular heart-shape crystal you have chosen, can be fully integrated through the physical and spiritual bodies, deepening and enhancing the effects of the healing qualities they bring.
Data sheet
Weight:

195 grams

Dimensions (approx.):

66 mm x 72 mm x 26 mm

Comes with:

- Luxury blue velvet gift bag.

Photo's are of:

Actual item.