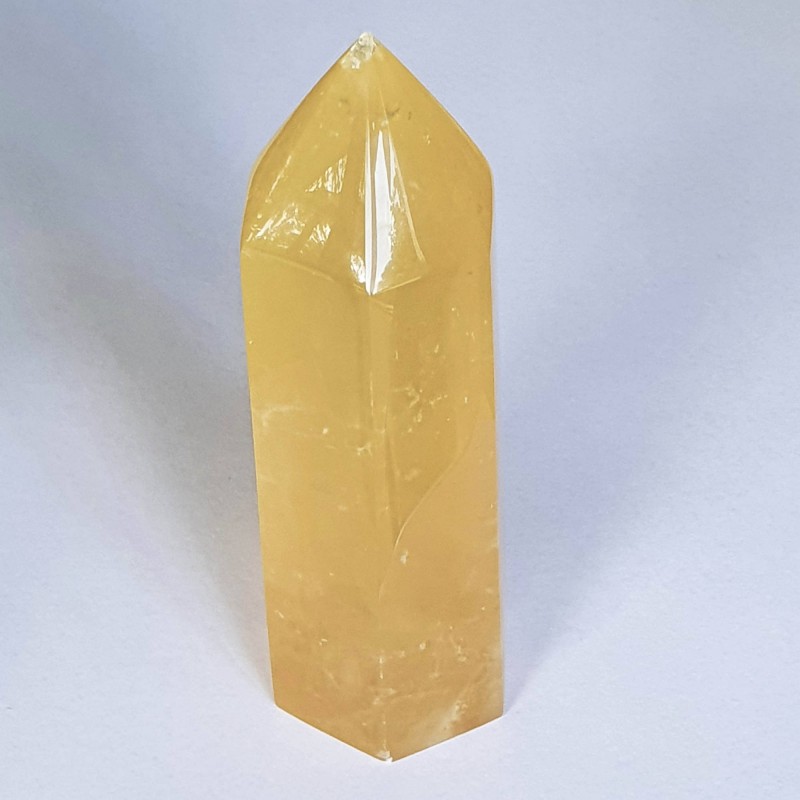  
Golden Calcite Obelisk - 13.2 cm
Reference: GCA-OBE-1
This type of crystal is for people who are ready to open up to an amazing new path as it brings energies of positivity and new creation around you. This type of crystal helps you to see new hope and direction in your life and helps you to find positivity and see the beauty around you. It brings a positive energy of gratitude for the small things in your life, which acts as a catalyst for bringing more positivity and greater opportunities and experiences for you. This particular Golden Calcite obelisk has the magical qualities of the rainbow in it which you can see in certain lights. This brings a strong magical energy in around you to help you to open up to and manifest your dreams. It helps to bring the strong level of positive energy trust and belief in needed to believe that your dreams can come true and it helps the universe to balance the energies behind the scenes to make your dreams fully possible and probable. This crystal is perfect for someone who is just stepping out in the world to go to University or to begin a new career. It helps bring all the support and resources needed to be successful and to be able to feel and tune in fully to your inner passion as you step forward on your life path. The Golden Calcite obelisk also brings in special qualities of harmony and will help to bring Harmony and happiness into your family and into your home. It helps to keep your living space clear and free of collective energy and blockages. It helps to create a calm clarity to dissolve conflict and quarrels. This is also a strong crystal to have in an office where business negotiations occur to bring a happy sound outcome for all involved. 

Note: At certain angle, the bottom part of this crystal shows rainbow colours, as shown in the last photo.
Obelisk shape crystals channel a very strong healing vibration as they connect directly with Source and bring Source energy through the crystal, grounding it firmly within the Earth. The healing energy that comes through the obelisk point tends to be much stronger and more effective than any other shape crystal. The size of the obelisk does not affect the type of qualities that particular crystal brings, but the larger the point the more the energies are amplified and the stronger the healing energies will be.
Data sheet
Weight:

0.421 kg

Dimensions (approx.):

Base: 40 mm x 41 mm, Height: 132 mm

Photo's are of:

Actual item.