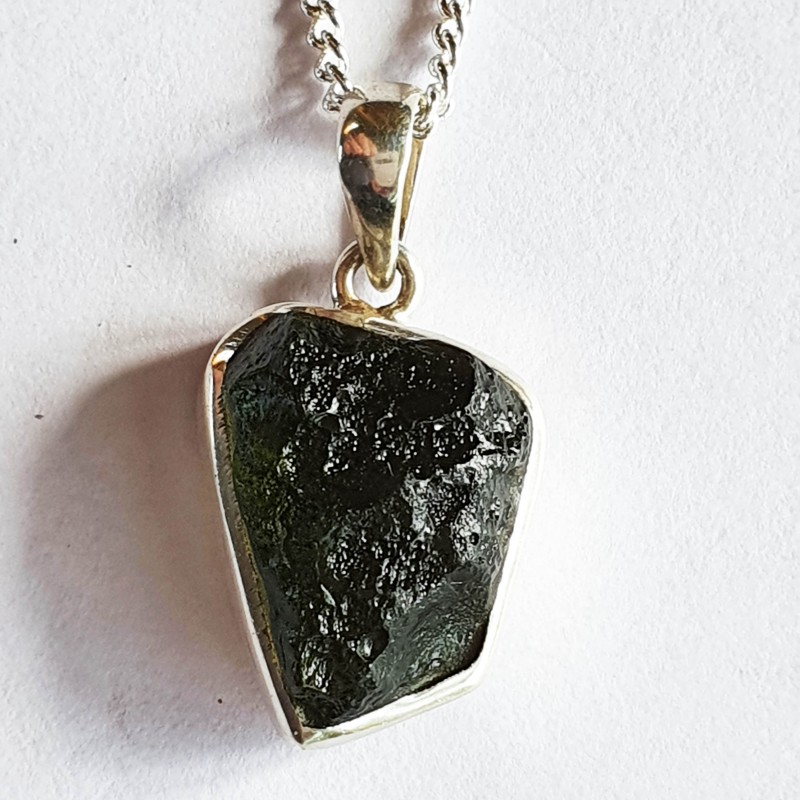  
Moldavite Pendant in Sterling Silver
Reference: MOL-PE-1
Genuine Moldavite pendant. Elegant pendant in Sterling Silver. Comes with 20" long 925 Sterling Silver 2 mm chain necklace, which can be shortened to 18" or 16". This is an extraordinary beautiful piece of moldavite with a beautiful deep colour.
Moldavite is becoming very rare and nowadays it is hard to find genuine high quality Moldavite. The price of moldavite has more than doubled over the last year.


This genuine piece of Moldavite within the 925 Sterling silver pendant comes from the Czech Republic. The meaning of the name Moldavite relates to the Moldau River in Czechoslovakia. A meteorite of enormous size is known to have crashed in the Czechoslovakian mountain region about 15 million years ago. Its impact is said to have had more power than an atomic explosion. This amazing stone was created by the heat of this impact.
It is believed by some people that Moldavite crystals have a powerful crystal energy, that is known for its action to stimulate highly beneficial occurrences of coincidence and synchronicity in your life, and that this unusual green crystal may support spiritual path and assist you on your journey.
Jewellery is an effective way to be able to fully receive the beneficial healing qualities of the crystals through wearing them in a fashionable way. Wearing the crystals continuously enables you to form a deeper connection with your crystal, allowing it to adapt its qualities to work with you on a more personal level. As you develop your relationship with your crystal over time, it will learn to adjust the qualities you receive from it, to bring you the greatest support possible with healing processes and in your spiritual growth and development. People who wear their crystals and build this relationship with them, often feel a loving, nurturing and supporting vibration from the crystal, helping them to cope with challenging situations. Bracelets are suitable to wear on your ankle or wrist. Being elastic, one size fits most.
Data sheet
Dimensions (approx.):

20 mm x 15 mm x 9 mm (dimensions don't include ring and chain mount)are of

Comes with:

- 20" (50.8 cm long) 925 Sterling silver 2 mm chain necklace (can be shortened if desired).
- Luxury blue velvet gift bag.

Photo's are of:

Actual item.
Product customization
Don't forget to save your customization to be able to add to cart