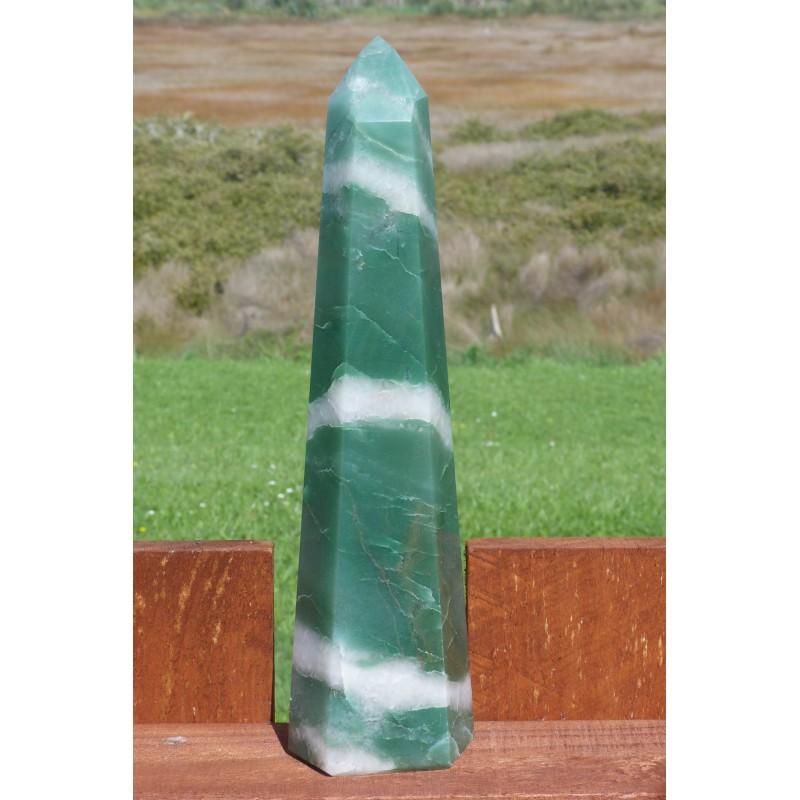  
Large Aventurine Obelisk - 37 cm - 2.9 kg
Reference: AV-OBE-XL1
This large Aventurine obelisk has a very strong powerful energy. It helps to bring you down from the mind into the heart, and holds you in the space of the heart, where your physical body can feel calm and relaxed. This helps to let go of tension and to relax into an inner state of presence where the body can rest and heal.
This particular obelisk has an energetic vibration on a level which may help people who are suffering from heart conditions, nervous tension and nervous system disorders. It has the potential to help to bring calming energy to mind related conditions, such as ADHD, anxiety and minor depression.
Please note however it is not a substitute for medical treatment as it is a support for people with these conditions, not a cure, even though for some people, healing qualities may be experienced.
Even though this crystal is quite large, it works with people individually, for example in a room full of people, some people may feel drawn to it and feel it working with them, where as others may not. The crystal chooses at any time who to work with and you know it is working with you if you feel drawn to it.
The clear quartz bands throughout this particular crystal represents the crystal's connection with the purest Source energy, which is a special quality within this crystal, as it is through this higher Source energy that deep healing can be received.
This is a powerful and large crystal, weighing almost 3 kg.
Obelisk shape crystals channel a very strong healing vibration as they connect directly with Source and bring Source energy through the crystal, grounding it firmly within the Earth.The healing energy that comes through the obelisk point tends to be much stronger and more effective than any other shape crystal. The size of the obelisk does not affect the type of qualities that particular crystal brings, but the larger the point the more the energies are amplified and the stronger the healing energies will be.
Data sheet
Weight:

2.93 KG

Dimensions (approx.):

Height: 370 mm, Base: 100 mm x 63 mm

Photo's are of:

Actual item.