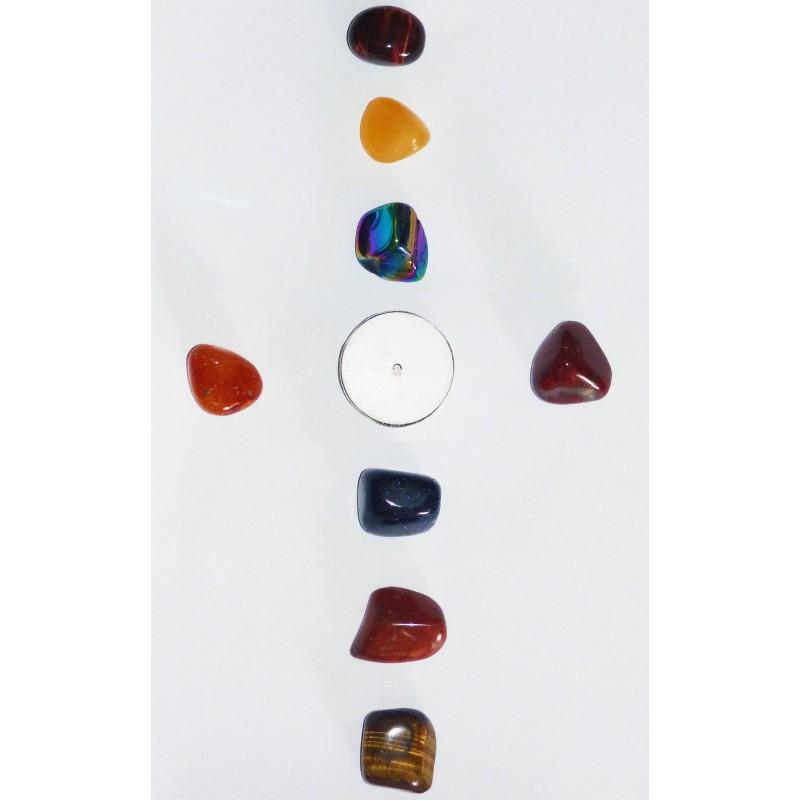  
Energy & Inner Power - Crystal Set
Reference: SET-ENERGY
This crystal set energises your entire system and helps you to reclaim, and stand in the strength of, your own light and inner power.
The vibrations of this crystal set help to ground you firmly on Earth and opens you up to Source, allowing Divine Light Energy to move through your physical and spiritual bodies, energising them and revitalising your inner core. It also supports you to hold on to your power and strength and helps to dissolve unhealthy patterns such as always giving yourself away.
This crystal set helps to bring the strength and courage needed to enable you to step out in the world as the vibrant being you always are.
This set comes with 8 high quality "hand-picked" tumbled crystals, and a candle in a luxury blue velvet bag.
When you purchase this set, an extensive manual in pdf format will be emailed to you. This manual explains how to work with the crystal set through meditation and during your sleep, and it describes the qualities each crystal brings within the set to bring clear understanding in how the crystal set works.
Every crystal of this set was chosen by tuning in to the energy behind the purpose of the set, allowing the relevant crystals with the energies and vibrations needed to show themselves. Further tuning in to the chosen crystals reveals the individual qualities each crystal brings for this particular set and their position within the setup, which determines how the crystals work together energetically to bring the highest and purest vibration through for the purpose of the set. The way the crystals work together ensures full spiritual protection and brings the energies and qualities through in the most effective way to assist you with your journey. It is important to know that the qualities that each type of crystal brings is often very different between sets as they are tuned in individually and perfectly from Source in order to fulfil the particular purpose of each set and to work as a team with the other crystals within the set to achieve this.
For each set the crystals are chosen with utter respect and care to match the right individual vibration of each crystal and create the team qualities needed for the purpose of this set.
If you wish, you can add the name of the person for who the crystal set is and we will energetically clear and tune the crystals exactly to your vibration, so you can get maximum benefit from the qualities the set brings.
The images are of a similar item. Please note that crystals can vary slightly in size, shape and/or colour within each set.
Data sheet
Comes with:

- Luxury blue velvet gift bag.
- Meditation and usage manual in PDF format (will be send by email).
- Small candle.

Photo's are of:

Similar item.
Product customization
Don't forget to save your customization to be able to add to cart