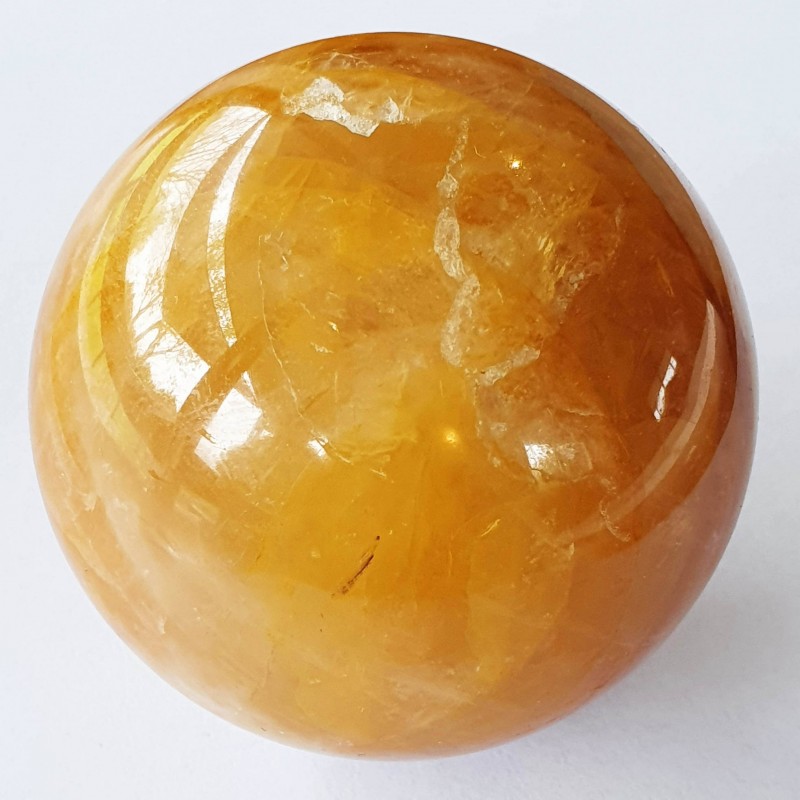  
Golden Quartz Sphere - 60mm
Reference: GOQ-SPH-1
Golden Quartz Sphere - 60mm
For product details, click on the tab above.
This golden quartz sphere shows the golden energy mixing with the clear quartz from which it has originated from. The clear quartz amplifies the qualities of the gold to create a very deep and strong connection to the inner wisdom of source which is hidden within us. This sphere pulls us into presence so we are able to fully access this wisdom and use it to make informed quality choices and decisions in our life. There is a very deep flow of fertility through this particular sphere so this would be helpful for people who are struggling to hold a pregnancy to term and who have experienced re occurring miscarriages. This sphere does work in harmony with Divine plan so it will support any new life or new beginnings which are part of the higher Divine. The energy of this crystal also helps to calm overactive energies down such as an overactive mind or someone with a hyper active personality which needs reigning in to a controllable level. By holding this crystal in your hands some of you will feel a gentle pulling inwards taking you more deeply within yourself. This is bringing you out of the mind and down into a state of inner presence where you can connect more fully with your inner being and receive wisdom and guidance. For those who do not feel the pulling sensation you can know that it is working on you in the same way but just on a more subtle gentle level.
Spheres bring a more nurturing form of healing energy from Source. Instead of directing energy through a point, like the obelisk does, the energy collects within the sphere, activating the qualities of that particular crystal and then gently permeates the surrounding space with those qualities. These crystals are very effective within a room to create and hold the healing space over long periods of time. Therefore the healing energy continuously flows through the room in a gentle way without being too strong or overwhelming. Spheres make a nice decorative space and therefore can be placed anywhere in the house and everyone in that space can receive the beneficial qualities of the crystal, provided their free will accepts it. Generally spheres are more expensive because they are cut from a much larger crystal to create the perfect sphere.
Data sheet
Weight:

263 grams

Diameter (approx.):

60 mm

Comes with:

- Hematite Ring (Stand).

Photo's are of:

Actual item.
Our products are sent within 3 business days.

Safe, secure & encrypted payment.
You might also like