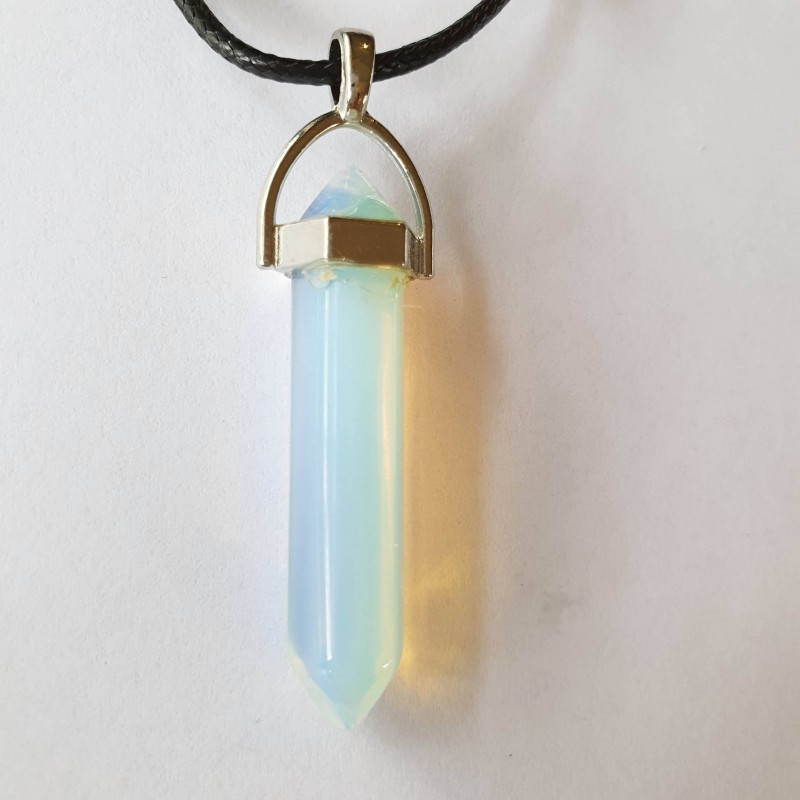  
Opalite Pendant
Reference: OPA-PE-X
Opalite pendant, held in silver metal, comes with adjustable rope necklace.
This Opalite pendant helps you to open fully to source and work with the higher source energy to help with Soul growth, self healing , clearing blockages and for receiving guidance and messages straight from source.
The Opalite brings a high level of positivity around you and helps to raise your overall vibration to the energetic levels of the new earth. It brings clarity on who you are and helps you to express your true self into the world. The Opalite pendant ensures you always have the energy of highest source protection around you and allows your guides and angels to help and support you in everything you do. This is a very nurturing crystal which also helps with physical shock and cradles the body and soul in soft gentle nurturing energy so it can recover. This is helpful for those who have had a severe accident, illness or surgery or have suffered a huge sudden shock in life.
Jewellery is an effective way to be able to fully receive the beneficial healing qualities of the crystals through wearing them in a fashionable way. Wearing the crystals continuously enables you to form a deeper connection with your crystal, allowing it to adapt its qualities to work with you on a more personal level. As you develop your relationship with your crystal over time, it will learn to adjust the qualities you receive from it, to bring you the greatest support possible with healing processes and in your spiritual growth.
Data sheet
Comes with:

- Adjustable 80 cm nylon black necklace string.