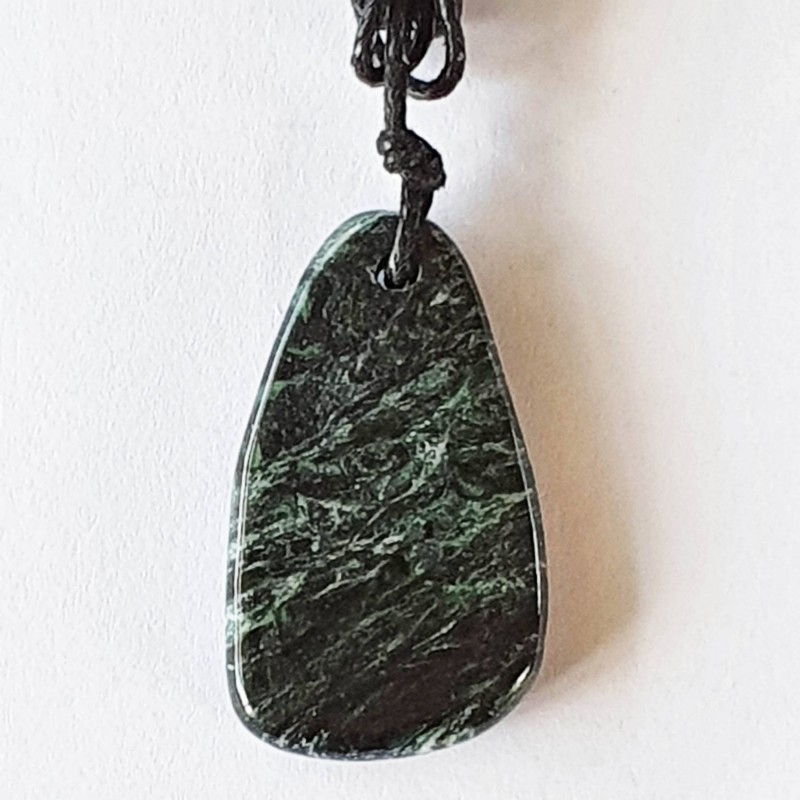  
American Greenstone Pendant
Reference: UGS-PE-1
This American Greenstone (Heartenite) pendant comes with a black rope necklace.

American Greenstone is a very deep powerful crystal stone which goes to the deepest levels within the heart and opens the heart up to the inner Divine energy which sustains us and gives us vision and drive in life to fulfil our Higher purpose. For those who feel lost in life. This stone helps you to ground fully in your soul purpose and bring the strongest most powerful form of Higher Power through to stand in that purpose and fulfil every part of it in your lifetime. The American Greenstone helps you to find the strength and courage to let go of anything which no longer serves you and brings your focus and energy strongly in line with Divine Plan and your soul learning and growth. This is a manifestation stone which helps you to open and manifest the needs of the soul over the needs of the ego. It pushes the ego aside so you can see your True Path clearly and feel the direction you are being guided to move in. It then continues to protect you  and guide you while you walk that path. This is the stone of inner direction and guidance. It is the compass of the soul. 
Jewellery is an effective way to be able to fully receive the beneficial healing qualities of the crystals through wearing them in a fashionable way. Wearing the crystals continuously enables you to form a deeper connection with your crystal, allowing it to adapt its qualities to work with you on a more personal level. As you develop your relationship with your crystal over time, it will learn to adjust the qualities you receive from it, to bring you the greatest support possible with healing processes and in your spiritual growth and development. People who wear their crystals and build this relationship with them, often feel a loving, nurturing and supporting vibration from the crystal, helping them to cope with challenging situations.
Add a 925 Sterling Silver 2 mm Chain Necklace to your order for only $10 ($7.50 off).
Data sheet
Dimensions (approx.):

35 mm x 20 mm x 4 mm (crystal only)

Comes with:

- Adjustable 80 cm nylon black necklace string.
- Luxury blue velvet gift bag.

Photo's are of:

Actual item.

Combo Discount:

Add a 925 Sterling Silver Necklace for NZD 10,- ($7.50 off)