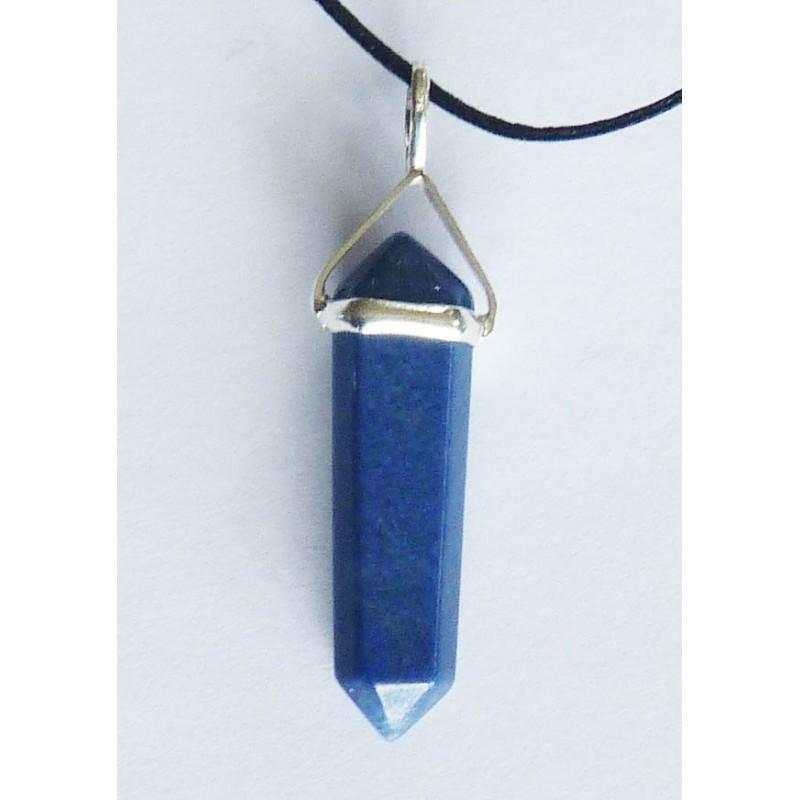  
Lapis Lazuli Double Terminated Sterling Silver Pendant
Reference: LAP-PE-4
This pendant is made of a lighter coloured Lapis. Its purpose is to support you in facing inner truths, which may be difficult to confront and accept. The lighter coloured Lapis does this in a more gentle nurturing way than the deeper coloured blue Lapis. This is perfect for people confronting aspects of their learning path where self-forgiveness is needed.
Lapis is the crystal of Truth. It brings the energies of Truth without judgement. This crystal is excellent in supporting deep meditation where you go deep within and sit with your inner being and reflect on our own personal qualities and issues. The crystal helps to create a safe place where you can look objectively at your choices and behaviours in life and the behaviours of others in a non emotive way and gain a true perspective and understanding behind the behavioural patterns which help form how you choose to present yourself in the world. This brings the clarity needed to find solutions and see the best way forward. Lapis also helps to bring inner soul growth by shining a mirror of truth which allows you to look at and assess your learning in life and take that learning to a new level. The Lapis also helps you to clear your own space and open up to messages, guidance and healing to support you in the most positive way on your path. It helps you to see the deeper soul learning behind experiences which expands your capacity for higher soul growth. This is a crystal to help you to see through all the misleading information around you and see the truths behind your own and others intentions so you can make correct and informed choices to support your Life path and soul purpose.
Jewellery is an effective way to be able to fully receive the beneficial healing qualities of the crystals through wearing them in a fashionable way. Wearing the crystals continuously enables you to form a deeper connection with your crystal, allowing it to adapt its qualities to work with you on a more personal level. As you develop your relationship with your crystal over time, it will learn to adjust the qualities you receive from it, to bring you the greatest support possible with healing processes and in your spiritual growth and development. People who wear their crystals and build this relationship with them, often feel a loving, nurturing and supporting vibration from the crystal, helping them to cope with challenging situations.
The shape of the pendants create different energies depending on what shape they are. The qualities and gifts the crystals bring are similar but the shape helps to determine the strength of the energy from the crystal and also how the gifts and qualities are taken into your body energetically. 
Terminated pendants: Bring the qualities and gifts of the crystal out in a more powerful, direct way and have a much stronger effect. These are recommended for people who need stronger support and who wish to work on a deeper, more closer level through issues, challenges, self-healing and soul growth.
The double terminated pendant creates an energetic link and flow from Source through the physical body and grounding within the Earth. It also creates the flow from within the Earth up to Source and it is from within this flow that healing on all levels can be received. The healing from this type of pendant is more effective and stronger than any other type, because it works with energies from Source and also from within the Earth.
Add a 925 Sterling Silver 2 mm Chain Necklace to your order for only $10 ($7.50 off).
Data sheet
Dimensions (approx.):

37 mm x 10 mm (crystal only)

Comes with:

- Adjustable 80 cm nylon black necklace string.
- Luxury blue velvet gift bag.

Photo's are of:

Actual item.

Combo Discount:

Add a 925 Sterling Silver Necklace for NZD 10,- ($7.50 off)