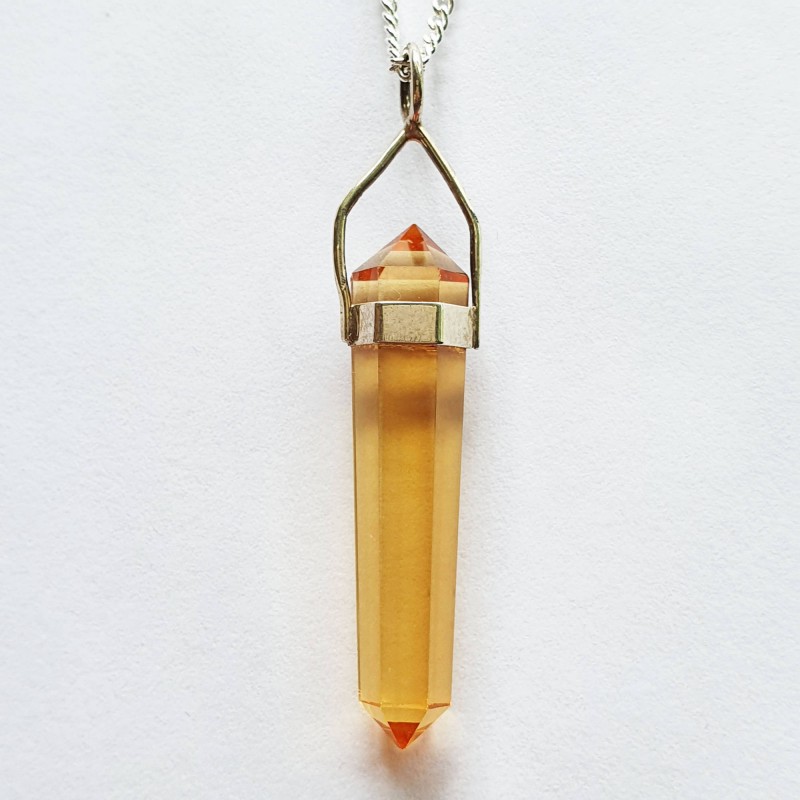  
Siberian Golden Quartz Pendant With 925 Sterling Silver Necklace
Reference: SGQ-PE-1
Siberian Golden Quartz Pendant With 925 Sterling Silver Necklace
For product details, click on the tab above.
This is a Unique and Amazing Pure Clear Golden Blue Quartz Double Terminated Pendant. 
It comes with 20" (50.8 cm long) 925 Sterling Silver 2 mm chain necklace, which can be made shorter if you wish.

This is a very beautiful pendant, a real eye catcher. Very hard to find.
Golden Quartz energy takes you deep within your soul to access all the inner wisdom and learning you have gained over your past incarnations and enables you to use that to support your path in this lifetime.
This energy connects very strongly with source to make sure the wisdom and guidance you receive through this crystal is pure and can only be received in harmony with Divine Plan.
The Golden Quartz connects you fully in your solar plexus and with your True Spiritual Purpose on Earth so new opportunities can come in and open for you in harmony and in alignment with your soul purpose in this life time.
Golden Quartz has very strong qualities to help overcome deep depression and find the will power to stand in your light and open to life again. It is also particularly strong in being able to help overcome the effects of severe illness and helps with the recovery from the illness bringing new strength and positive vibrations around the person. Over all this is the crystal which helps you to open your arms out wide and embrace everything good and positive in life and open up your highest Divine path before you. 
This is a beautiful crystal which operates on the higher vibration of the New Earth and works with you to raise your own vibration with the energies of the Earth as the Earth moves to a higher frequency.
Jewellery is an effective way to be able to fully receive the beneficial healing qualities of the crystals through wearing them in a fashionable way. Wearing the crystals continuously enables you to form a deeper connection with your crystal, allowing it to adapt its qualities to work with you on a more personal level. As you develop your relationship with your crystal over time, it will learn to adjust the qualities you receive from it, to bring you the greatest support possible with healing processes and in your spiritual growth and development. People who wear their crystals and build this relationship with them, often feel a loving, nurturing and supporting vibration from the crystal, helping them to cope with challenging situations.
The shape of the pendants create different energies depending on what shape they are. The qualities and gifts the crystals bring are similar but the shape helps to determine the strength of the energy from the crystal and also how the gifts and qualities are taken into your body energetically. 
Terminated pendants: Bring the qualities and gifts of the crystal out in a more powerful, direct way and have a much stronger effect. These are recommended for people who need stronger support and who wish to work on a deeper, more closer level through issues, challenges, self-healing and soul growth.
The double terminated pendant creates an energetic link and flow from Source through the physical body and grounding within the Earth. It also creates the flow from within the Earth up to Source and it is from within this flow that healing on all levels can be received. The healing from this type of pendant is more effective and stronger than any other type, because it works with energies from Source and also from within the Earth.
Data sheet
Dimensions (approx.):

40 mm x 10 mm (crystal only)
Length: 53 mm (crystal plus silver holder)

Comes with:

- 20" (50.8 cm long) 925 Sterling silver 2 mm chain necklace (can be shortened if desired).
- Luxury blue velvet gift bag.

Photo's are of:

Actual item.
Product customization
Don't forget to save your customization to be able to add to cart
Our products are sent within 3 business days.

Safe, secure & encrypted payment.
You might also like