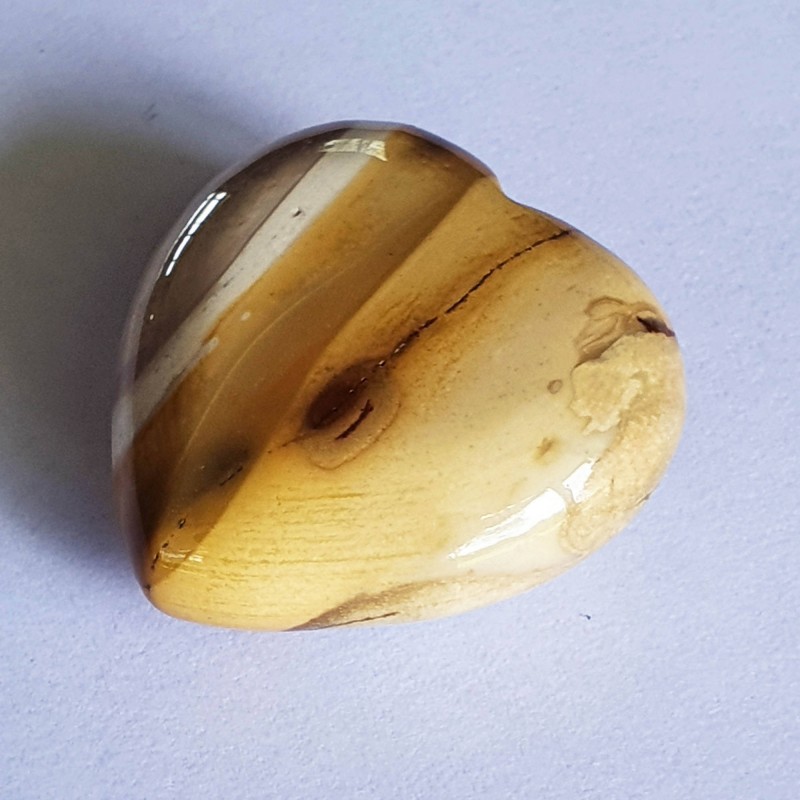  
Mookite Heart - Small
Reference: MOO-HRT-1
This mookite heart is for someone who needs or wants a bit of fun, positive energy in their life. It is a small piece but brings a beautiful positive happy energy dancing through it and fills the space around it with feelings of laughter and happiness. This little heart says
" I Love You" and "Let's have some fun" It brings all the qualities and energies of a playful happy dolphin through and you cant help but feel more joyful and happy in its presence. This mookite crystal helps to bring out the fun and inner child like qualities of whoever owns it and its energy can be lovely to sit in after a long hard day. The mookite crystal would be beautiful on the edge of a bath or in the bathroom to help bring a positive happy start to each day or for end of day nurturing as you pamper yourself in the bath.
The brown in the crystal helps to ground you in positive energy and the grounded positive energy it brings, will help to manifest positivity and happiness in your life. This is a perfect little crystal for a newly wed couple to place beside the bed to help bring playfulness, fun and positive adventures into the marriage. It can also help to revive a stale marriage or relationship. It can help someone to see if a current relationship is a positive part of your path or whether it is better to let it go and open for a more suitable partner to come in. The happy energy of this heart will also help to bring a happy Divine partner or positive friendships to you if you are looking for true love.  
This is a "Happy Stone" Everywhere the stone goes happiness, fun, joy and laughter will follow. It is a stone to help you enjoy life and not take it all so seriously. 
The heart shape of crystals helps your energy to drop down from the mind into the heart and open up into a state of presence. From this space inner wisdom, unconditional love, self-love and forgiveness can be accessed and brought out into the world to support your path and the path of those around you. Because the heart shape helps to open you fully to your inner being, the qualities of the particular heart-shape crystal you have chosen, can be fully integrated through the physical and spiritual bodies, deepening and enhancing the effects of the healing qualities they bring.
Data sheet
Weight:

43 gram

Dimensions (approx.):

40 mm x 41 mm x 17 mm

Comes with:

- Luxury blue velvet gift bag.

Photo's are of:

Actual item.