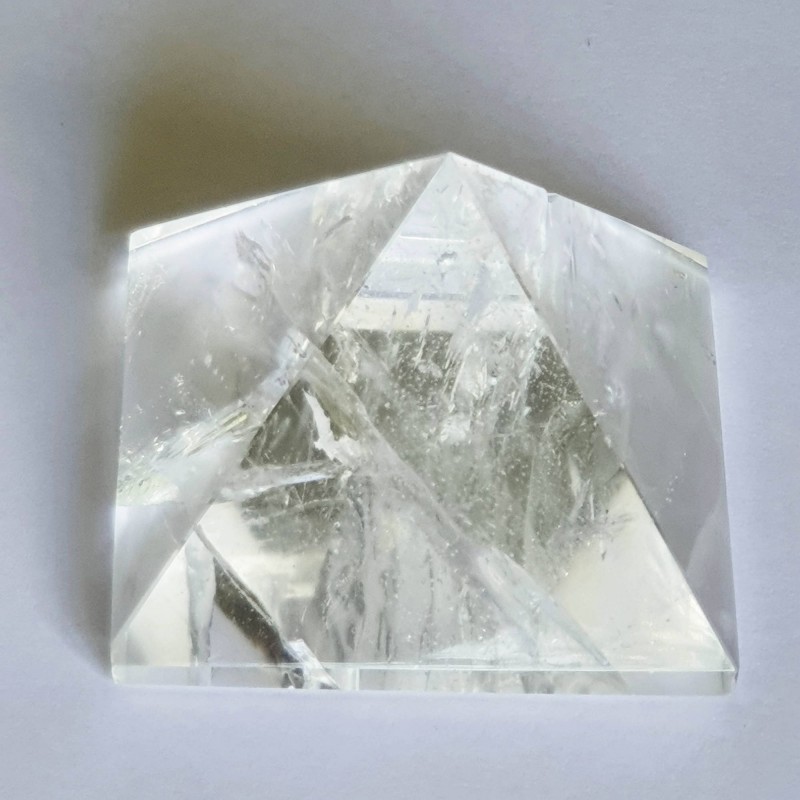  
Clear Quartz Pyramid
Reference: CQ-PYR-1
This clear quartz pyramid is all about action. For someone who feels life has become stagnant and boring and wants to stir things up and bring a new lease of life onto your path. The clear quartz energy connects you firmly with source to keep you in harmony with Divine Plan and your higher purpose on Earth. It helps you to feel where to go and exactly what to do to follow the best path for you as a soul being and a human being. This pyramid has an exceptionally strong energy so with this energy around you, be prepared for full on, but positive unexpected changes to occur. This particular crystal has a catalyst type energy which can bring much strength and power into opening your dreams and vision in harmony with Divine Plan. For those struggling financially, the energies and qualities of this clear Quartz pyramid could bring a flurry of activity which creates financial opportunities for you or sudden windfalls of money or wealth. Being connected with source and Divine Plan whatever journey you embark on will open in balance and in harmony with Divine plan so you can trust what opens before you and step into it with confidence knowing things will unfold however they are meant to be. The rainbow energy in this crystal will energetically help you to overcome any challenges and obstacles on your Divine path with ease and grace and will open new magical opportunities for you along the way. This is a crystal of action and will get things open and moving forward. 
This Clear Quartz Pyramid, has amazing markings through it, which come out beautifully when light shines on them.
Data sheet
Weight:

0.158 kg

Dimensions (approx.):

Base: 59 mm x 57 mm, angled side: 57 mm

Comes with:

- Luxury blue velvet gift bag.

Photo's are of:

Actual item.