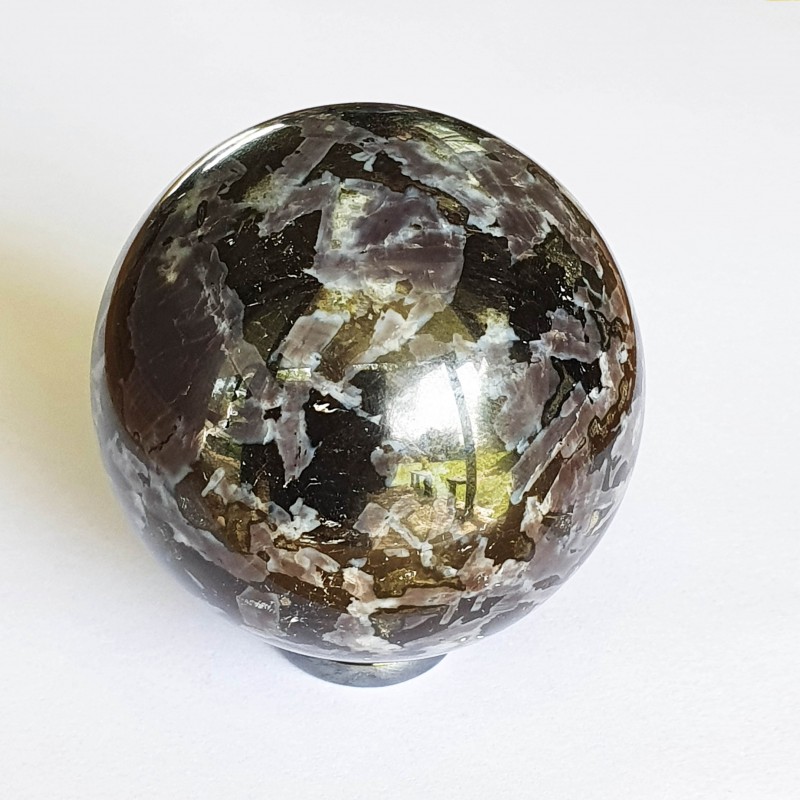  
Gabbro Sphere - 63 mm
Reference: GAB-SPH-1
The gabbro sphere works exactly the same way as the obelisk but the sphere helps those who still feel a bit lost on what their Divine path fully is and what direction to take on that path to get started. The sphere shape brings a bit more nurturing, guidance and help from source to find and acknowledge what your Divine path is and start following it. Once you feel confident and feel life is flowing for you the obelisk form can bring Power and depth into your journey to push things ahead in a faster and stronger manner. It is likened to flowing in the river with the sphere or plunging through the rapids with the obelisk. Some people will work with one first then energetically balance with the other. Both these shapes with the Gabbro work beautifully together to bring strength, Direction and balance through the process. 
The gabbro crystal is a New Earth crystal. It has a very strong, powerful connection to the higher vibration of the New Earth and pumps this strong vibration in whatever area it is placed in. Anyone with this crystal in their home is helping to bring through the higher vibration into the world not only for themselves but for the Earth and everyone or everything around them. This powerful New Earth crystal helps to dissolve anything energetically which is still on the old lower vibration and helps it to either transform or transcend into the New Earth. It helps to clear any old stuff which holds you back or needs healing or clearing for your soul to rise to a higher level and brings deep protection as the transition and transformation takes place. The gabbro helps to deepen your spiritual awareness and balance any emotions which are causing blockages or conflict in your life. The gabbro helps to open and clear blockages in the physical body as well as all spiritual and energetic bodies. In effect it paves the way for the soul to move forward in human form, clearing and balancing and making the physical ready for higher energy manifestation. People drawn to this crystal have probably worked for many years on opening their own spiritual awareness through learning and healing and making life changes which bring them in harmnony with and onto their Divine Path. This crystal now helps them to forge ahead and become fully anchored and grounded on their Divine Path and to be able to manifest and follow that Divine path completely and with full commitment in the physical realm. 
Spheres bring a more nurturing form of healing energy from Source. Instead of directing energy through a point, like the obelisk does, the energy collects within the sphere, activating the qualities of that particular crystal and then gently permeates the surrounding space with those qualities. These crystals are very effective within a room to create and hold the healing space over long periods of time. Therefore the healing energy continuously flows through the room in a gentle way without being too strong or overwhelming. Spheres make a nice decorative space and therefore can be placed anywhere in the house and everyone in that space can receive the beneficial qualities of the crystal, provided their free will accepts it. Generally spheres are more expensive because they are cut from a much larger crystal to create the perfect sphere.
Data sheet
Weight:

0.409 kg

Diameter (approx.):

63 mm

Comes with:

- Hematite Ring (Stand).

Photo's are of:

Actual item.