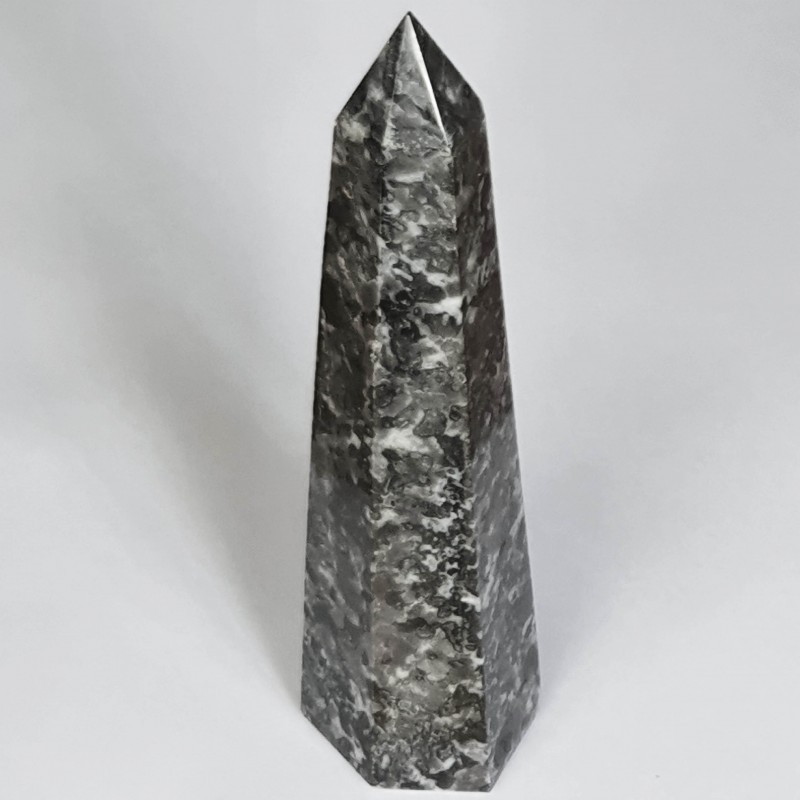  
Tall Gabbro Obelisk - 19.5cm
Reference: GAB-OBE-1
The gabbro crystal is a New Earth crystal.
It has a very strong, powerful connection to the higher vibration of the New Earth and pumps this strong vibration in whatever area it is placed in. Anyone with this crystal in their home is helping to bring through the higher vibration into the world not only for themselves but for the Earth and everyone or everything around them. This powerful New Earth crystal helps to dissolve anything energetically which is still on the old lower vibration and helps it to either transform or transcend into the New Earth. It helps to clear any old stuff which holds you back or needs healing or clearing for your soul to rise to a higher level and brings deep protection as the transition and transformation takes place. The gabbro helps to deepen your spiritual awareness and balance any emotions which are causing blockages or conflict in your life. The gabbro helps to open and clear blockages in the physical body as well as all spiritual and energetic bodies. In effect it paves the way for the soul to move forward in human form, clearing and balancing and making the physical ready for higher energy manifestation. People drawn to this crystal have probably worked for many years on opening their own spiritual awareness through learning and healing and making life changes which bring them in harmony with and onto their Divine Path. This crystal now helps them to forge ahead and become fully anchored and grounded on their Divine Path and to be able to manifest and follow that Divine  path completely and with full commitment in the physical realm. 
Obelisk shape crystals channel a very strong healing vibration as they connect directly with Source and bring Source energy through the crystal, grounding it firmly within the Earth. The healing energy that comes through the obelisk point tends to be much stronger and more effective than any other shape crystal. The size of the obelisk does not affect the type of qualities that particular crystal brings, but the larger the point the more the energies are amplified and the stronger the healing energies will be.
Please note that the cover photo of the standing obelisk shows lighter white spotting, which is actually more greyish as shown in all other photos.
Data sheet
Weight:

0.664 kg

Dimensions (approx.):

Base: 45 mm x 50 mm, height: 195 mm

Photo's are of:

Actual item.